Choosing the right floor mats can be difficult. There are so many different types of floors, uses, and setups that you may not know where to start. one of the most important decisions is to choose the right type and size of floor mat. There are many different mats for every location, use, and set up not just hardwood or carpet. You can find floor mats in a variety of colors with different textures depending on your needs! We'll walk you through the process so you can select the perfect mat for your space!
How to choose the right Floor Mat?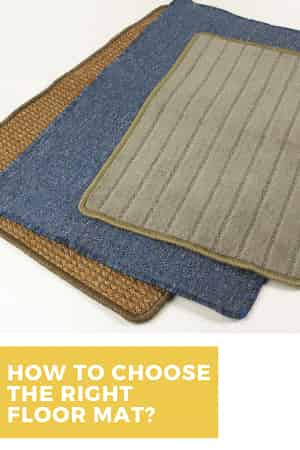 When it comes to floor mats, there are many different types of materials and designs. The best choice for you is going to depend on a number of factors including the type of flooring in your home, the amount of traffic that your mat will see, and how much money you want to spend.
1. What type of floor do you have?
Is it carpet, tile, or hardwood? The first thing to consider is the type of floor of your home. For example, if your home has a lot of rugs and carpets in different rooms, then it's likely that you have carpet as your main flooring material. Tile floors are the first preference in kitchens and bathrooms because they're easy to clean. And lastly, there's hardwood – this type of flooring is popular amongst homes but it is more expensive than other types.
If you have hardwood floors, you should be looking for a durable mat that will not scratch or tear your floor. If you have carpet, then a soft and cushion mat is the best option to protect your floor from damage and getting dirty.
Nowadays there are many different types of mats available on the market for all kinds of flooring.
2. What is your budget?
Before you purchase a new set of floor mats for your home, it's important to know how much money you have available to spend. Floor mats are essential in any household and can of a variety of materials such as wood, rubber, or plastic. The cost will vary depending on the type of material and the size of the mat. For example, if one was looking for a small mat to go under their kitchen table they would likely pay less than someone who needs an extra-large rug for their living room floor.
3. How much traffic will the mat see?
An important question to ask yourself, when looking for a new rug or floor mat is how often it will be walked on. Is this an area where people only walk on their way into the kitchen or bathroom? Or is there heavy foot traffic throughout the day with children and pets running around constantly jumping over toys and furniture?
4. Commercial Setting or Home
Do you need a floor mat for your home or business? You should consider what the purpose of the mat will be. Commercial mats are usually made from rubber and can withstand heavier traffic. These mats also have anti-slip features to prevent accidents and injuries in case of falls. At home, carpet mats are more comfortable while still providing some traction on slippery surfaces such as hardwood, tile, or linoleum floors. A basic carpet mat is cheaper than other types because it doesn't require cleaning as often since it's only used at home for pets or children that might spill something on it once in a while.
5. How often will the mat be used?
When you are looking for a durable and easy to clean floor mat, it is important to know the frequency that your mat will be used. For example, if you have a busy home with pets and children in constant motion then you should choose a mat that can resist stains from food or pet accidents.
6. Easy to clean material for better maintenance and hygiene
We all know how hard it is to clean up spills and dirt from our floors. This is why many people are turning to easy to clean floor mats for their homes. Floor mats come in a variety of materials, colors, shapes, and sizes so that you can find the perfect one for your needs.
It's not always easy to clean up after somebody accidentally spills a drink or food on the floor. There are still some stains that just refuse to come out, and there is always the risk of slipping in all the liquid. That's why it's important to take precautionary measures with your home flooring by installing high-quality rubber mats.
Floor mats are divided into many categories depending upon the usage, different Flooring, different setups, locations, and more. These categories are as below
---
Indoor Floor Mats
Kitchen Mats
Bath & Shower Mats
Baby Mats
Acupressure Mats
Bedroom Mats
Door Mats
Entrance Mats
Outdoor Floor Mats
Grill Mats
Swimming Pool Mats
Garden Kneeling Mats
Camping Mats
Boot Sanitising Mats
Office Floor Mats
Chair Mats
Gym Flooring Mats
Salon Mats
Desk Mats
Anti-Static Mats
Anti-Fatigue Mats
Pet Floor Mats
Snuffle Mats
Cat Litter Mats
Licky Mats
Horse Stall Mats
Pet Bed Mats
Sports/Activity Floor Mats
Yoga Mats
Golf Practice Mats
Gymnastics Mats
Wrestling Mats
Garage Mats
Inflatable Mats
Eco-Friendly Mats
Automobile Floor Mats
Car Floor Mats
Truck Mats
RV Mats
Carpet Floor Mats
Hardwood Floor Mats
Cricut Mats
Cutting Mats
---
Indoor Floor Mats         
Indoor floor mats are made for any type of flooring, but they're usually designed to be used inside. They come in all types and sizes so you can pick the right one for your needs.
Indoor Floor Mats can be of Different types like
Entry Doormats
Baby Playmats
Home Gym
Entry Doormats
We all know how important it is to find a good entry doormat. One that will keep dirt and debris off of your flooring and furniture, not to mention protect the health of you and your family. But with so many on the market today, how do you know which one to buy? We'll describe what makes a good entry mat, as well as where you can find some that are worth considering.
What to look for in a Good Entry Mat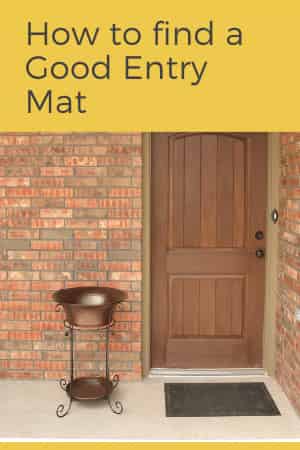 The goal of a good entry mat is to keep dirt and debris from being tracked into your house. It should also be easy for you to clean, provide traction in all seasons (including snow), offer some warmth in the wintertime, and protect the health of everyone coming through your door.
Entry mats come in different shapes and sizes. The size of your door and the area in front of it will help you decide which mat is best for your needs.
A good entry mat should be made out of a durable material such as rubber or vinyl, have some cushioning to prevent damage from heavy traffic, keep its shape over time, provide traction so people don't slip on it.
1. Size:
Make sure your rug is the right size for your entryway. If it is too small, then people will feel like they are walking on a tiny rug that looks weak. If it is too big, then people will probably think that it looks too big in the space.
The size of your mat should be proportionate to your space.
2. Thickness of the mat
A good entry mat should be at least one inch thick. If it is too thin, then you will not get much protection from the dirt and debris that people track into your home.
The thickness of a rug also has to do with its weight. If it's too thick then it will be heavy and it will be difficult to maintain.
3. Space between Door and Mat
There should be enough space between the door and the mat so that the door can open freely. Open and close the door a few times to check the space.
If the space is too thin or no space then the rug will wear and tear quickly. Make sure that there is enough space between the door's bottom and your entryway floor. Thinner-pile rugs are easier to clean in high traffic areas like your doorway.
4. Ease of Cleaning
It is important to find an entry mat that you can easily clean. Oftentimes, this means a thin-pile rug made of synthetic materials or wool with natural fibers.
Many people use their vacuum sweeper on the rug while it's still in place – others prefer to fold and roll up the mats for cleaning later on.
5. Visually Appealing
Make sure that the color of your entry rug is in line with your other flooring or it should match the decor of your home.
Typically, a neutral color like light brown or beige works well for this purpose, but it's important to match up the materials too (e.g., if you have hardwood floors, choose an entrance mat made out of wool).
Pattern mats are a good option for those who are looking to add some eye-catching style to their floor.
Similarly, a mat with your family's name on it can be an excellent birthday or Christmas gift idea.
However, if you have pets in the home, this type of rug might not work well – they could easily destroy any design on the mat.
These factors above can help you find out the best doormat for cleaning your shoes and keeping your home dirt-free.
Baby Play Mat
When you have a new baby, it can be difficult to find the right things for them. One of the most important things that your child needs is a play mat. It provides comfort and safety when they are learning how to explore their environment. There are different types of baby play mats available on the market today, making it hard to choose which one is best for your family. In this blog post, we will give you 9 considerations that should help you in picking out the perfect mat!
What is a Baby Play mat?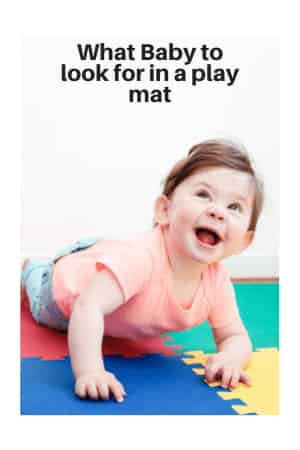 A playmat is a soft surface that your child can lay on and use for physical activity. It provides comfort, protection, and safety when they are exploring their environment.
There are many different types of baby mats available on the market today, which makes it hard to choose the perfect one.
What to look for in a Baby Play mat
There are many things to consider when choosing a play mat for your baby.
If you want something that is lightweight, easy to set up, have more cushioning, a waterproof surface, and soothing vibrations.
1. Safety
A playmat must be safe for your child. You want to make sure that it can withstand the rigors of being a toy and be easy for them to get on and off of.
It should also have no sharp edges or pins so you don't need to worry about any potential injuries.
Playmats are not recommended for children under 12 months.
2. Material
The next factor is the material. There are so many materials that you can choose from, but some of the most popular ones include foam and vinyl.
If your baby is looking for a playmat with extra cushioning then this may be perfect for them.
3. Foam or Quilted Play Mats
This is a great option if you want to make sure that your child has a comfortable place for their toys.
This might also be a good option if you have an active baby who likes to crawl and roll around the floor. This way they won't bump up against hard surfaces.
Foam mats are usually lightweight which means they can be easily moved and stored.
4. Fabric Mats
fabric mats are tough and perfect for an active child.
These are also machine washable which means that they can be washed without any dry-time. This is especially important if you have multiple children and want to make sure that everyone has their own mat for playtime when it comes time for clean-up.
5. Silicone Play Mats
Double-sided silicone playmats are great because they can be flipped over and one side is a textured surface for grabbing toys.
The other side will provide support so that your baby won't feel like they are lying flat on the floor while playing with their favorite toy.
These mats also have grip backing which means that babies will not slip when they start to stand on the mat.
6. Type of Play Mat
There are different types of playmats available for purchase.
Playmat that has a detachable toy
Interlocking mats
themed playmat
activity gym
Tummy time mats
Some are designed to be a soft surface where you can lay your baby down and they will feel like they are lying on their bed at home while you sit by them reading books or singing songs from when you were a child.
7. Fun and Encouraging Play mats
Playmats are also designed to be fun and encouraging.
A lot of play mats have toys on them that will encourage your baby to start using their hands so they can grab the toy.
These mats usually have bright colors or patterns which attract your baby's eye, making it easier for them to find a specific toy.
Some mats have alphabets or images that are designed to help your baby explore, like different things.
Some mats have toys attached so they can be used as a traditional playmat but also provide more sensory stimulation for the child when they turn over and want to lay on their tummy or back.
Playmats with toys attached provide an opportunity for you to teach your baby.
8. Size of the Play mat
The size of the mat is important for two reasons.
Firstly, you want to make sure you have enough room in your home and on your floor so that it doesn't feel cramped or crowded with a play mat spread out all over the place.
Secondly, if your baby has a large area they can lie down or start to crawl on, they will have a lot of space to move around.
The largest playmat I found was 130 inches long by 67 inches wide but some are smaller than this if you don't need anything bigger.
9. Thickness of the Play mat
The thickness of the mat is important for two reasons.
Firstly, you want to make sure that if your baby falls off the playmat they won't hurt themselves and will be able to get back up on their own.
Secondly, if it's a thin fluffy material then your baby might not feel as supported when they are lying down.
To be safe, your play mat should be at least 15 mm thick.
Get the best Baby mats for babies to crawling.
Kitchen Mats
Choosing the perfect kitchen mat is not as easy as it seems. There are many factors that come into play when choosing a mat, which is why we have created this list of things to look for in a kitchen mat. This will help you make an informed decision on your purchase and find the best kitchen mats for your home!
What to Look for in a Kitchen Mat
Kitchen floor mats have a tough job. They need to stay in one place, they must resist damage from hot and cold liquids, and they need to offer good traction.
1. Material:
The material of the mat makes all the difference in how it performs with different types of floors. For instance, silicone mats work well with ceramic tile flooring while vinyl mats work better with hardwood floors.
2. Thickness of mat:
The next factor is the thickness of the mat.
Low Profile mats are great for people with limited mobility and they're perfect for kitchens, bathrooms, entryways, and any other area where your feet touch the ground directly when standing.
3. Anti-Fatigue Mats:
An anti-fatigue mat is great for people who spend long hours on their feet. They help reduce back pain and fatigue by distributing the weight of your body evenly over a larger area, thereby eliminating "point pressure" that occurs when you stand or walk on a hard surface.
Anti-fatigue mats are good for people who spend a lot of time in the kitchen. They provide both support and cushioning to help prevent pain in the feet, knees, and backs.
4. Anti-Slip Mats
Anti-slip mats are an excellent choice if you need to prevent slips and fall in the kitchen. They provide a non-skid surface that is easy on your feet, but tough enough to stop someone from falling when carrying hot things across it.
Placing a material rug that doesn't have special anti-slip backing on the floor could hurt you. This is because it won't have a safe surface to stand on.
5. Water Resistant
Water-resistant mats are essential for kitchens that spill a lot of water. If your mat isn't able to resist spills, then it will act like a sponge and absorb all the liquid on its surface into its fibers.
This means you'll have to clean up after every single drip or splash that occurs in order to maintain safety.
Water-resistant mats are your best choice for the kitchen floor. Your rug will stay clean. If you want to use a mat in your kitchen, choose rubber or plastic. Fabric is also okay, but it will not be water-proof.
6. Stain Resistant
Another thing to think about when you're looking for a kitchen rug is whether or not it's stain resistant. This will make your life much easier in the long run, as there won't be any embarrassing stains from juice spills and wine accidents that are impossible to remove.
In the kitchen, spills can happen. You will want to have materials that are resistant to those spills. For example, you might want a mat or carpet that is able to resist stains, like polypropylene or rubber and plastic.
7. Size of the mat
Your kitchen rug needs to be the right size for your space. It should cover any areas you want it to, such as doorways or dishwashing stations.
The mat should extend into an area where you might walk, to get from one side of the room to another and not just stop at a doorway – meaning it should reach near stovetops and sink.
How big the mat depends on the space you have. If you are worried about your floor, get a small mat in high-use areas. A big kitchen might need a large, warm rug that can be seen from anywhere in the room.
A runner rug is a good choice for narrow or tight spaces in the kitchen. Make sure to leave enough space so that it does not get in the way of cupboards and appliances.
8. Suits the Decor
If you are looking for a mat that is not only functional but also stylish, then choose one with colors or patterns that match your kitchen.
Many manufacturers will use colors like red and green in their designs to reflect the holiday season. These mats often have food-themed decorations as well.
9. Cost of the Mat
Many people worry about how much a kitchen mat will cost. The price of mats can range from $20 to hundreds of dollars for large rugs that are made out of wool or other expensive materials.
The most important thing is not the expense; instead, consider what your needs are and choose an appropriate mat based on those factors.
These factors will help you choose the right kitchen floor mat or kitchen rugs for your home.
Bathroom Mats
Choosing the right bath mat is essential to your bathroom's comfort. A good mat will be made of a durable material that can easily be cleaned and should offer enough padding so that you don't feel like you're standing on concrete. There are many different kinds of mats out there to choose from, so it can seem overwhelming at first.
How to find the right Bathroom Mat
To help make this decision easier for you, we have put together a list of important factors to consider when choosing a bath mat:
1. Safety
Safety is an important factor when choosing a bathroom mat.
A bathroom is a wet room. You should not use mats that are slippery because they will make it difficult to walk.
Mats made of fabric materials are most likely to be slippery, so it's best to consider using non-slippery mats like those made out of rubber or something else. Mats also help keep the floors dry and free from mold, which can happen if you do not use a mat or if you have a wet floor.
2. Slip-resistant Mat
It goes without saying that safety should be the number one factor you consider when choosing a bath mat.
If you choose an anti-slip mat, it will provide a better grip against water and lessen your chances of slipping or falling in the bathroom. This is especially important for people who have balance issues or disabilities or older people.
3. Skid-proof backing
Bath mats typically have a non-skid backing. This is especially important for bathroom floors that are slippery, such as tiled ones.
You will want to look for mats with anti-slip backs so you don't risk slipping on the floor and injuring yourself or falling down in an awkward position because of your mat.
4. Fungus and Bacteria resistant
A bacteria or fungus-resistant mat can be the difference between a clean bathroom and one that is filled with all sorts of germs.
Bacteria-resistant mats are specifically designed to have an antimicrobial coating over them so they will resist any type of bacteria, mildew, mold, and other harmful substances from taking root on your bathmat.
5. Size
Bath mats come in a variety of sizes. You will want to measure the area where you want your mat and choose a size that fits accordingly.
If you have a small bathroom, look for mats that are smaller in order to conserve space if possible. Or if you have one larger room with multiple sinks or toilets, then consider buying a bigger bathmat.
6. Color
The color of the mat is also important. You want your mat to complement the rest of the décor in your bathroom and not stand out too much.
If you're buying a shower curtain, rug, toilet paper holder, or other pieces for decor, then pick colors that go together so they match well with each other.
A neutral color mat is typically best if you are unsure what your other bathroom pieces are going to be.
If you want a mat that is not only decorative but also functional, then look for one with some type of nonslip material on the bottom.
7. Pattern
The pattern of the mat is up to you. Choose something that matches or complements your bathroom design, and again try not to choose a strong color if possible.
You can also look for mats with patterns on them they are usually more expensive but they could make an excellent statement piece in your bathroom.
Garage Mat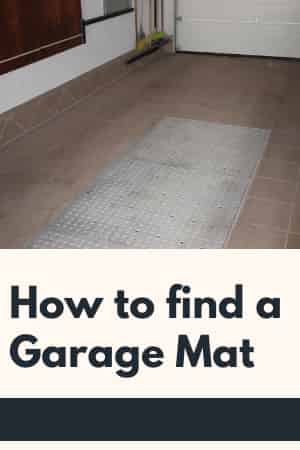 Garage floor mats are for different purposes. Some people want the mat to give protection to their garage. This will stop the tires from wearing down the concrete. Other people want them so that snowmelt doesn't get on their flooring and make ice patches on it. Others want them because of ugly oil stains or cracks in their garage's cement flooring which may be hidden by these mats.
Do you have a messy garage? Do you want to be able to store things in your garage without getting it dirty and dusty? Then you need a good quality mat. There are many mats on the market, but we will tell you how to find the right one for your needs. Garage mats are a great way to keep your garage floor clean and dry
What is a garage Mat?
A garage mat is a great way to keep your garage floor clean and dry.
A good quality mat should be easy to maintain, durable, and have a non-slip back so it stays in place. Mats come in many different styles – some even look like carpeting! The best mats are sized appropriately for the space you plan on installing.
Benefits of Garage Floor Mats
Garage floor mats are durable and can last for years.
Garage floor mats will protect your garage's concrete or asphalt from permanent stains that would not come up with a regular vacuum cleaner.
How to find a Garage Mat
Garage floor mats come in many different styles and colors. The most common materials are rubber, polyvinyl plastic, and even carpet. Some mats are textured, others resemble padded gym mats. You can install them over concrete floors that have stains or cracks without any prep work needed.
Common Features to Look for In a Garage Floor Mat
A garage floor mat should be resistant to chemical spills, safe for your feet and legs, easy to clean, and strong.
Perfect spill-resistant flooring.
Inexpensive and easy to install
This surface should prevent slips and trips with textured or grooved construction that channels fluids away from people's feet while cushioning their strides on tough terrain.
The mat must be excellent resistant against petroleum spills because of its high durability in harsh environments like vehicle traffic.
This durable design is resistant to most chemicals as well!
1. Size of the Garage
You should choose a floor mat that is the right size for your garage. If it's too small, then you will have to move it around when you are trying to drive in or out of the space.
Measure the dimensions of where your car door opens and closes before purchasing a mat so make sure that there is enough room on both sides for someone to walk out of the vehicle and still don't ruin the floor.
2. Types of Garage Floor Mats
Some of them come in a variety of colors and textures, while others offer more protection for the vehicle's tires from oil stains or nails that can puncture your tires. These mats also help prevent slipping when you have wet shoes on your feet.
There are many types of garage floor mats available to purchase.
Ribbed Garage Flooring
Rugged Diamond Tread
Coin Pattern Garage Flooring
Levant Pattern Garage Flooring
Floor Mat for Home Gym
Choosing a gym mat for home workouts can be a difficult decision. The mats can range in price, thickness, weight, and other qualities that make them more or less appropriate for home workout routines. We will outline the key points to consider when making your selection so you can buy with confidence!
Types of Home Gym flooring Mats
There are three main types of Gym Mats for Home Workouts: Exercise Mats, Foam Flooring For Homes, and Multi-purpose home floor mats.
Exercise Mats – These types of mats provide the most cushioning, which makes them a great choice if you have knee or other joint issues that impact your workouts at home.
Foam Flooring For Homes – These mats are made of foam, and will offer more cushioning than a regular floor mat. They may not look as nice in your home though!
Multi-purpose home floor mats – These types of mats can do double duty by serving as an exercise pad or yoga mat.
What to look for in a Gym Floor Mat
1. Cushioning
Do you need a lot of cushioning? If so, an Exercise Mats may be the best choice for you.
Is your home in a space with carpet or rugs? Consider using Foam Flooring For Homes as these types of mats are made out of foam and can stand up to thick floor coverings.
2. Thickness
You would also need to consider the thickness of the mat. If you need a lot of cushioning, then Athletic Floor Mats may be best for you because they are thicker than the other options.
3. Easy to Clean
If kids or pets can get access to your mat, chances are it will end up dirty and messy. So select a mat that is easy to clean and maintain.
4. Durability
How the mat will hold up over time from wear and tear. A good gym mat is durable and long lasting.
5. Antimicrobial Protection
Keeps your floor safe from health risks like bacteria, mold, and mildew.
6. Different Gym flooring options:
Rubber Gym Flooring – This is the traditional material that most people use for their home gym.
Rubber is the best type of flooring for a gym. You can use it for just about any kind of workout. It protects your subfloor and helps it stay in good condition if you lift heavyweights.
Rubber gym flooring is available in different ways. You can buy it in tiles, rolls, or mats. It comes in lots of thicknesses, too. My gym uses the orange color fleck roll to match their orange accent wall. It comes in lots of colors and patterns, too!
Pros of Rubber Gym Mats
They are easy to clean and maintain. Kids or pets can get your mat dirty, so you want something that is easy to clean.
Rubber provides a good surface for different kinds of workouts (lifting weights, stretching)
It's available in mats, rolls, and tiles so you have lots of options on how to set up your gym space!
Rubber gym mats are the most common type of flooring for home gyms, so you can find them at nearly any retailer.
You can clean them up quickly with soap and water.
It protects your floor from wear and tear.
Keeps your floor safe from health risks like bacteria, mold, and mildew.
Prevents dirt or moisture buildup because of a great drainage feature.
Foam Gym Flooring
Foam flooring is another popular option for home gyms. It's a good, inexpensive choice if you're not doing anything too strenuous on the mat (jumping jacks or light weights).
Foam mats are typically less expensive than rubber ones and they can be found in any color to match your decor! They also come with antimicrobial protection so it doesn't get moldy.
You still need to clean up after heavy workouts because sweat gets trapped under the mat and bacteria grow more easily.
Carpet Tile Gym Flooring
Carpet tiles are a great option if you want to go with something that looks nicer than rubber or foam and also provides more traction.
These mats come in all sorts of colors so they can fit well into any home gym design scheme.
They're not as easy to clean up though because there's no drainage, but it does look much better when used for workouts with weights or heavy cardio like jumping jacks.
Baking Mats
Baking mats are a kitchen essential. They are used to line pans or baking sheets in order to prevent sticking and for easy clean-up. Parchment paper is not just an option; it's not the best way to go! But what should you be looking for when purchasing your mat?
How to find a Good Baking Mat
Here's our guide on how to choose a good baking mat:
1. Size
Baking mats come in different sizes. To decide on the right size to buy, you should consider the type of baking pan you use often. You should make sure that the mat is snug when put next to your baking pan, or your cookie sheet. Make sure that it is not too big or too small.
The best mats will have measurements that match the size of your pans or oven sheets! A good rule of thumb is to purchase a mat with dimensions greater than the surface you're lining. You don't want any parts sticking up over the edge and into whatever you are baking on.
If you use more than one pan in your oven, it is good to have two baking mats. The standard size of the mat for the oven should be 6.5″ x 9″, 9″ x 13″, or 13″ x 18″.
2. Material:
Baking mats are good for baking. This is because they help with even cooking and don't rust. They also do not let food get stuck to them so they clean up easily. Remember that the shiny surface can prevent browning though, so use an egg to test for this and if it bubbles then your food may need to cook longer or at a different temperature.
The material that your baking mat is made of will affect the way it performs. Mats can be made with silicone or aluminum and they each have their own benefits!
Silicone baking mats are non-sticky which means no more messes from baked doughs sticking to your surface. They're also flexible so you don't need a special kind of pan for them to work.
Aluminum mats are heavy-duty and last a long time, but they can be hard to clean up because the baked food tends not to release from their surface as silicone mats do. Aluminum is also more expensive than silicone so it may not fit your budget as well!
Steel is a good conductor of heat. It will make baking even. Steel baking mats are attractive and strong, too. They're also more affordable than silicone mats but they don't last as long because the aluminum begins to rust after a while.
3. Non-Sticky
Non-sticky means that your baked doughs and pastries won't stick to the surface of your baking mat. This is a big one for me because it can be such a pain when you're trying to bake something delicious but then spent forever scraping off bits from the pan!
4. Dishwasher safe
Every kitchen is having a dishwasher and if baking mats are dishwasher safe it will be an added advantage.
5. Teflon free
To make baking mats non-sticky, manufacturers often use Teflon. Non-sticky baking mats are okay for the occasional baker but if you're doing a lot of cooking or need to make something like eggs every day then this could be less desirable because it's not healthy!
6. Heat Resistant
Heat resistance is important if you're working with a hot oven. Some baking mats are more heat resistant than others. This is good because the mat will not melt if the heat goes up suddenly.
7. Flexibility
If a baking mat is hard, it will be difficult to use. So before you buy a mat, check if the mat is flexible enough. If it is also hard to store and wash the baking mat, then buy a different one.
8. Oven and Microwave Safe
A baking mat should be oven-safe. But, you should not forget to check if the manufacturer has said that the mat is freezer and microwave safe. Sometimes, rather than using a regular oven, you might use a microwave. This will work at those times. You might also need your baking items to stay in the freezer for a few hours before they come out of it.
9. Durability
A baking mat should be durable. This will allow the mat to last a long time and keep it in good shape.
Exercise Mat
In this article, we will discuss the many different types of exercise mats as well as their advantages and disadvantages. Before you decide on an exercise mat, it is important to know what type of flooring you have or plan to put your mat on.
Exercise mats are not designed for outdoor use or surfaces that contain water like a pool deck surface. We also recommend using a towel underneath the mat if you're placing it on hardwood floors so your feet don't slip around while exercising!
How to find a right Exercise Mat
1. Comfort
The type of mat you choose should be based on how comfortable it feels for your body. If your joints are sensitive to firm surfaces, then we recommend getting a softer mat like the Gaiam Eco-Friendly Yoga Mat or Jade Harmony Professional Polypropylene Non-Slip Exercise Mats.
2. Thickness
A good exercise mat should provide some cushion for your joints and spine. An exercise mat is usually a little thicker than a standard one, but not as thick as pure therapy mats or jogging mats that are typically around an inch thick!
The thickness of the mat you choose will also depend on what type of floor you are working on. If you're working on a hardwood floor, we recommend getting at least 3 inches thick Mats because they are more comfortable than thinner mats.
3. Size
The size of the exercise mat you choose will depend on your height and how wide you want to keep the mat. If you're a yoga instructor, we recommend getting a mat that is at least 36 inches wide as most people like to use two mats for their yoga practice and doing it in front of an audience!
If you are taller than average, then we recommend getting an extra-long mat that is at least 72 inches long.
4. Durability
Durability depends on how often you use your mat.
If you are using your exercise mat every day, then we recommend getting a professional-grade mat that is made of durable fabric and foam with at least a 5-year warranty on the product. If not, get a high-quality thick pad for everyday exercises.
Carpet Floor Mats
A carpet floor mat is great because it protects the carpet underneath your chair. In order to keep your carpet looking fresh and clean, you need a floor mat. A floor mat is important for preventing wear and tear on the carpet from everyday use.
How to choose the right Carpet Floor Mat
However, not all are created equal, so here are some things to look for in a quality carpet floor mat:
Durability: Your floor mat should be durable enough that it can withstand everything from pets walking on it to being stepped on by heavy furniture. –
Waterproofing: In order for your rug to last as long as possible, it needs to be waterproof. This will protect against spills and leaks that might seep through the fibers of the carpet over time.
Backing material: The backing material of your rug also matters because this is what keeps the mat on the carpet and prevents it from sliding.
Anti-Microbial: Pick a mat with features like antimicrobial protection that does not encourage bacteria or fungus growth.
Easy To Clean: Carpet floor mats should be easy to clean and maintain. A vacuum cleaner is good enough to remove the dirt, sands, and soapy water in case of hard stains from any carpet floor mats.
Hardwood Floor Mats
Hardwood floor mats are suitable for any hard surfaces like Concrete, Vinyl, and Linoleum. They keep your floors clean and in the best condition possible.
The right mat can help protect your flooring from dirt and stains while also adding a nice touch of style. There are both traditional mats that go under chairs or at doorways, as well as modern designs for those who prefer something more decorative.
Hardwood floor mats are designed to protect your floors from dirt, grime, and water. They're often made of durable materials that can be easily cleaned with a vacuum or by hand.
Grill Mats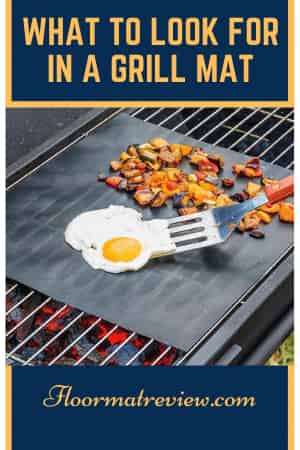 Grilling is a great way to create delicious meals, but the grill can be very difficult to clean. This is why many people are choosing grilling mats for their homes. Grill mats help you avoid grease and other liquids from spilling onto the surface of your kitchen stove or grill. They also keep food from sticking to the surface and they can be cleaned easily with soap and water.
What to Look For in a Grill Mat
1. Cooking Surface
The cooking surface of the mat should be large enough for all of your food.
2. Material
Grill mats are made from high-grade materials that are heat resistant and make the use of grill mats safe. Silicone or PTFE materials are best because they can withstand high temperatures and will not catch on fire as fiberglass does.
3. Size
The size of your mat should be big enough to cover your entire cooking surface. You should measure your grill before buying. This way, you can already know the dimensions to aim for when looking for a mat that is perfect because it will fit.
4. Price
The prices of the mats vary, but they can range from $16-$150 depending on the size and material. buy the best under the grill mats for your deck and patios.
5. Warranty
Some grill mats come with warranties for up to five years while others have no warranty at all.
6. Thickness
The thickness of the grill mat is important. The thickness of the mat should depend on what you want to cook.
You can tell if it is too thin or too thick with your finger. Don't use mats that are too thin because they will burn and degrade more quickly than thicker ones.
A good grill mat should be thin and have a thickness of 0.25mm. This will keep the heat evenly across the surface while still being safe and strong.
7. Heat Resistance
The grill mats must withstand high temperatures in order to work as they are intended. Silicone or PTFE grill mats are the best.
Swimming Pool Mats
Swimming pool floor mats are an important part of maintaining a clean and healthy swimming environment. They should be non-slip and protect people from slipping in the wet areas.
There are many types of pool mats to choose from, so it can be difficult to know which mat will work best for your needs. In this blog post, we'll walk you through the best Non-Slip Pool mats and help you decide which is right for you!
How to choose the Right Swimming Pool Floor Mat
Below are the main factors that need consideration when you choose to buy the right swimming pool floor mat.
1. Anti-Slip Backing
When choosing a mat, you'll want to make sure it's designed with an anti-slip backing. This is especially important in areas where people are most likely to slip and fall from the pool deck – like near steps or stairs. Some mats provide additional cushioning for extra protection!
They should have a strong grip on the floor.
2. Allow drainage of Water
Another important feature is ensuring the mat allows water to drain from it. The last thing you want is a floor mat with standing water on top of it! This can cause bacteria and other contaminants to grow, and there is a risk of slipping, which puts people at risk. Mats that have drainage holes are great because they allow any accumulated water from the poolside to drain easily.
3. Anti-microbial material
A material that helps prevent the growth of bacteria and other contaminants is important for swimming pool mats. Mats are most likely to be used in wet, humid environments, which mean they will have a greater risk of growing bacteria and fungus. It's necessary to get floor mats that have anti-microbial properties.
The wet areas in locker rooms, saunas, and shower facilities can be a place for harmful micro-organisms that cause odors, rashes, and other skin diseases. The swimming pool mats are specially treated so that they do not promote the growth of fungi or bacteria.
4. Comfort
Pool Mats should add comfort and warmth to your feet and feel nice.
5. Chlorine Resistant
The material should be chlorine-resistant and withstand the oils, soaps, shampoos, and chlorines in your pool.
6. Easy to Install
Good quality pool mats are interlocking floor mats and they are easy to install. It should be possible to install them on different floor types like wood, vinyl, marble, concrete, and tile.
7. Multi-purpose Mats
Pool mats must be multi-purpose mats. You can use them for wet areas other than the pool like the Laundry area, Sauna, hot tubs, locker room, Kitchen, Pool, Shower, Pet area for Dog, Fishing boat, Farmhouse, Camping, Gym, and more.
8. Durability
They must be durable and you want a mat to last through several seasons of wear and tear.
9. Flexibility
Flexible tiles are easy to cut. You can make them fit any shape you want. They are easy to install, too.
Chair Mats
The right floor mat can make a huge difference in your office. It will not only protect the floors from wear and tear, but it will also keep them clean. If you are looking for durable mats that look great too, then we have just what you need! In this blog post, we will show you how to select the right chair mat for your particular needs.
A chair mat is a tool that helps keep you healthy. It does not hurt the floor and it helps people with stress, fatigue, and pain.
The function of a Chair Mat:
The main function of a Carpet Chair Mat is to simply provide protection in order to avoid damage resulting from frequently rolling an office chair over carpeted or wood flooring.
These helpful chair mats will enable you and make it easier for you to move from one spot in your office to the other without any problems like resistance from heavily carpeted flooring.
The great thing about chair mats, you can choose from wide varieties of colors and designs available, however, always bear in mind that choosing the cheapest chair mat isn't a good idea at all because what you actually need is a chair mat that will meet your needs at the office.
A chair mat can make your carpet last for a longer period of time.
How to select the Right Office Chair Mat
Before purchasing a carpet chair mat, there are few things that you need to take into consideration.
1. Type of Floor you have
First is the type of floor where your chair mat will be used like a heavily carpeted office or office with hardwood flooring. The selection of Chair mats mainly depends on the type of floor you have like,
Carpet Floor
Hard Floor
2. Carpet Floor Chair Mats
If your office is heavily carpeted then you will surely have difficulty in moving around or rolling from one place to the other because there is too much pressure on the wheels plus heavily carpeted floors put resistance to wheels. And if you force to roll the chair over the carpet it could lead to damage.
The best solution for this problem is to simply install a soft carpet or a carpet chair mat, which is specially made for office chairs and at the same time protects your flooring from damage.
A carpet Chair mat has claws or spikes that get into the carpet fibers preventing it from sliding around.
When you are selecting a chair mat for Carpet Floors bear in mind that carpet floors are of 3 different types:
Low or No Pile Carpet Floor
Medium Pile Carpet Floor
Select a Chair mat that suits the thickness of the carpet floor.
3. Hard Floor Chair Mats
If you are working on a hard floor in the office or at home then you should elect a chair mat that is compatible with Hard floors. Hard floors can be Wooden, concrete, marble, tiles, or vinyl.
A hard floor chair mat has a textured surface at the back that prevents it from sliding on the surface.
Benefits of Using a Hard Floor Chair Mat-
One advantage in making use of one is that you can get away with the static you can get from the friction you are creating to the floor and then transferring it to the computer which will result in you losing important data. An anti-static chair mat is a right solution for this.
Another advantage in making use of a Hard Floor Chair Mat is that it can make your desk area look very clean and new.
The next advantage is that it simply avoids you having back and led pain. because if you use one you will not have to exert that much effort to move around because the chair will easily slide if you have a Hard Floor Chair Mat installed. Unlike if you do not use one where you will need to struggle and put too much stress on your leg and back.
4. Floor Area of the Office
The next thing you need to carefully take a look at is the floor area of your office, your mat should cover your work area. It would be a great idea to get a tape measure and get the actual dimensions or area.
Floor area of your office plays a important role to choose the right chair mat.
5. Shape of Your Desk
The shape of your chair mat will be determined by how you have your furniture in your office. The shape of your desk can be cubicle, l-shaped, straight, and more. Most people will use a rectangular-shaped mat, an oval or circular-sized one depending upon the shape of their desk. Select a desk chair mat that fits the shape.
6. Size
First, find out the measurements for your mat. Then, pick a standard mat size that is closest to the largest dimensions of your mat.
7. Other Features
Chair mats come in different sizes and it is up to you to choose which one perfectly suits the needs of your office. You just have to make sure that it is high-quality, durable, and reasonably priced. A chair mat should be easy to clean and maintain.
Acupressure Mats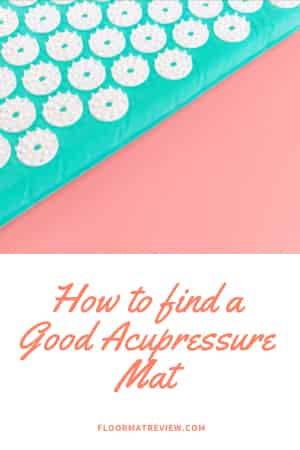 The acupressure mat is a great way to relieve stress and tension in your body. It can also be used as an office chair replacement for those who have back issues. Acupressure mats come in many different shapes, sizes, colors, and styles so finding the best one for you may take some time. In this post, we will discuss what to look for when trying to find the perfect acupressure mat!
Acupressure is a Chinese practice that helps with pressure points. You can do it at home.
Acupressure mats have small and sharp points that press each of those pressure points in your body when you lie down. The idea of acupressure mats is not too common to many people, and some people say it's the same as the "bed of nails".
Acupressure mats is a natural remedy for body pain, neck pain, back pain, stress, weight loss and many other ailments.
Acupressure mats have small plastic spikes that are attached to a mat. The spikes have round tips, so they will not hurt your skin, and the discomfort should go away after you are done with the mat.
How to find a Good Acupressure Mats
1. Material
The best materials for an acupressure mat are the following:
A material that is firm, yet flexible in order to conform to your body. The mats should also not be too hard or too soft since you want them to feel comfortable when lying on them.
These mats can be Soft foam, neoprene, thick pad, or firm mats depending on the use of the mat.
2. Extra accessories
Acupressure mats come with pillows, footpads, acupressure balls, neck pillows, and more. You can choose the accessories according to your need.
3. Size
There are many sizes to choose from in the market, but it is best to get one that fits your body. If you have a specific part of your body that needs acupressure, then a smaller mat will be better than the bigger one. But if you want to use your whole body, then the bigger mat is good. Small mats are good for travel.
4. Colors
As for colors, you can go with anything as long as it goes well with your home design.
5. Storage
If you want to carry your mat around with you, make sure it is not too big. This will be easier if you buy a small mat. You can also buy a mat the size of your yoga mat.
Car Floor Mats
Purchasing quality car floor mats is a wise decision for any auto owner. Car floor mats may seem like a trivial thing to consider when purchasing a new vehicle however, they are in fact quite important.
Floor mats for your truck, car, or SUV can help protect your vehicle against dirt, moisture, and general wear and tear. Without these protections not only will the appearance of your vehicle diminish, so will its value.
Imagine trying to resell your car years down the road, with stains from mud, gum, beverage spills, and balding spots from foot friction.
Benefits of a Car Floor Mat
Regular car floor mat cleaning will not clear mud and other dirt sitting on top of your carpet but they will gradually get into the carpet.

For those living in regions with temperamental weather like rain, snow, sleet, and sand, an all-weather rubber floor mat will be the best bet. Quick to clean, this version of the car floor mat easily protects against the frequent moisture that the floor of your vehicle will see, stopping it from soaking into the carpet and protecting against stains as well as foul odors.
Where the weather is more predictable and much drier, carpet floor mats are more than sufficient, especially where sand will frequently be carried into the vehicle by passengers. Carpet car floor mats do an excellent job of trapping dirt, not allowing it to move around in the vehicle while it is in motion.

Many vehicles come with floor mats right off the lot these days, but you want to be sure you are protecting your vehicle with high-quality floor mats. A cheap version will be likely to tear or fray after a few uses, and many cheap carpeted car floor mats can leave an unpleasant odor after being cleaned.
A heavy-duty floor mat made from quality materials is always going to be a smarter, more cost-effective choice in the long run. There are also safety issues going with the cheaper, thinner mats as they tend to get bunched up under your feet and could get wedged under the pedals.
How to choose the right Car Floor Mat?
Different cars have different car flooring needs. Below are some factors you should take a look at to choose the right car floor mat.
1. Types:
The first thing you need to think about is if you want a single-piece mat or multiple-piece mat. A multiple-piece mat can be split into different pieces. You can clean different parts of the mat that are dirty, without cleaning the whole thing.
One-piece mats usually come with a strong velcro so they don't move. They also have the original car's carpeting on them, which looks nice. they are difficult to take out in most cases.
2. Material:
Next, you need to think about the material that is in the mats. Carpet and rubber are common materials that people use. Of course, there are other materials too but they would get dirty and then not be useful anymore.
Car mats are mostly of two types, Rubber or Carpet Mesh. The type you choose will depend on the use and safety of your car.
If it is a regular passenger vehicle then most people opts for rubber mats as they don't allow any dirt to enter through the small holes at its bottom. Carpet mats trap dust and debris which can be irritating if someone has allergies to things that get trapped under their feet.
3. Size of the Mat
In order to find the right size, you need to know what kind of car you have. You need the correct Car Make, model, and Year of manufacturing to find out the right floor mat for your vehicle. For example, a minivan mat will not be the same size as a mat for an SUV.
4. Durability of the Car mat
Another factor to consider is the durability of the floor mat. Rubber mats are more durable than carpet ones as they last longer and can hold up against all sorts of wear and tear.
5. Color of the Mat
The next thing to consider is the color of your car mat.
Car mats come in a variety of colors to match any vehicle type and interior design. Colors make your vehicle look different. Try to choose a lighter color that makes the room seem bigger and more open. A darker color could be hard to clean because it stains easily.
6. Custom Fit Floor Mats
There are some mats that are custom-cut to the shape of a specific car. They are also known as 3D car floor mats. These are good to buy if you have a car with a tricky floor. It is hard to cut these mats, but if you do it will be good for your car's floor.
7. Non-Slip backing
Make sure you always choose a mat that has a non-slip backing and also uses either the factory fastening system or comes with its own fastening system if the factory mats do not have one.
8. Easy to Clean
Car floor mats go through a lot of dirt, mud, rainwater, snow, and more. Choose a car floor mat that is easy to clean. Rubber car floor mats are the best materials and chosen by many customers. Weathertech floor mats are also very easy to clean.
Yoga Mats
Yoga is popular across the globe for its benefits to our bodies and mind. It is easy to practice and heals our body and mind from many remedies. To practice yoga, a mat is an essential tool as this defines your space and also saves your joints, knees, hips, and ankles from injury.
How to choose the right Yoga Mat?
Yoga Mats come in a variety of lengths, colors, width and thicknesses. So How to choose the right one for you? There are a lot of factors which can be considered before choosing the best yoga mat.
1. Length-
Length is a crucial aspect and you must choose a mat according to the length of your body. It is advised to buy a mat which is 6 inches more than your height. Regular yoga mats come in 68 inches in length and fit up to 5'10" tall persons. But if you are above 6 ft then you need an extra-long yoga mat.
2. Width-
Extra-wide mats are useful when you need a larger space to perform different postures. The extra width is required while doing a couple of yoga and Acro yoga poses.
3. Thickness:
Yoga mat thickness ranges from .5 mm to 6mm. A thicker mat provides a lot of cushioning to the feet, ankles, and weak joints. But a thicker mat can also be unstable while practicing yoga, so choose a mat that is firm and solid.
4. Travel Friendly-
A lot of yogis are travelers and they like to carry their yoga mat with them. A long/extra-long mat or a thicker mat is can be heavy. They can weigh up to 6 to 7 pounds even more. So, the weight of the mat is a factor here as a portable and lighter mat is travel-friendly. Yoga mats made from Foam/ natural fiber/ fabric or plastic are lighter and foldable.
5. Eco Friendly-
Yoga is a way to connect with nature. An eco-friendly yoga mat is environmentally friendly. Bamboo mats, cotton mats, coco mats are made up of natural fibers and elements.
6. Non-Slip Mats
Some people sweat a lot from their palms and feet while they practice yoga on the mat. For them, a non-slip yoga mat is suitable which soaks the sweat and provides a good grip so that they can perform all types of Asanas.
7. Other features
Some of the other features which need to look at before buying a yoga mat are:
It should be easy to clean. If you practice daily it will go through a lot of sweat and dirt which can lead to the development of germs, fungi and create a bad odor. Cleaning or wiping it daily will solve the purpose.
Golf Practice Mats
If you're a golfer, there's no doubt that practice is important. But if you don't have the right mat to work with, it'll be really difficult to get better at your game. This article will help you understand what makes for an ideal golf mat so that when you go shopping, you know what to look for!
How to find a good Golf Practice Mat
A golf mat is an expensive purchase. You need to think about what you want and how much you are willing to spend. The more expensive mats are usually better than the cheaper ones. Here is our recommendation of best Golf Practice Mats.
1. Size:
If you have limited space, the size of the mat can matter. Larger mats are more expensive. You might want to get a mat that is smaller than what you need for hitting the ball so it won't take up too much space.
2. Benefits:
You can stand on the mat and hit balls. This means your body will stabilize the mat so it does not shake during your shots.
You have more surface area for the wear and tear of your shots.
Having a mat that is big enough to hit from is good because you will be in your stance when hitting balls, which makes it feel like you are at a real golf course.
We recommend getting a mat that is the same size as your home. Measure the width and length of your space and compare it to the dimensions of the mat you are interested in. Make sure you can make a full swing with it, too.
3. Realistic Feel
Some things that make a difference in the quality of the experience are how realistic do you think the mat is? Manufacturers have done a good job trying to make it feel like real grass.
At the same time, you don't want to use a mat that is too similar to real turf. The mat might be too hard and make your joints hurt. That's why it is better to use a mat that feels like real turf but also protects your joints from injury.
4. Durability
The mat should have a thick, solid base. If you want your mat to feel good and last for a long time, get one that costs more than $60.
Durability is one of the most important considerations for a golf practice mat. The last thing you want to do is spend money on something that will tear up or break down after a few uses and then have no ability to use it anymore.
5. Functionality
The most important thing in a batting cage is the surface. Mats don't usually have many other features. But sometimes you can find some models with more functionality, like strips that are the fairway, rough, and for teeing up to hit woods.
Golf mats are for practicing hitting golf shots. You can also practice your putting. Fiberbuilt makes a mat with all of these features.
6. Cost
Budget is important when buying a golf mat for your home. Some people cannot afford to buy mats that are four figures. Thankfully, there are options that cost less than $80. Golfers with large budgets also have good options, but if you want to hit shots at home you should not get a cheap mat that costs under $80 or so.
These mats provide fun for people, not help with their game.
Gymnastics Mat
Gymnastics mats are used to provide safety, comfort, and support for gymnasts. There are many different types of mats that fall under this category. We will go over what you should look for in a mat so that it is both safe and comfortable for your child.
What to look for in a Gymnastics Mat
A mat is a big expense. You don't need to buy one that is designed for the most advanced movements when you are just starting out. Just get a mat that helps beginners and you can start practicing gymnastics or gym at home. Here is our recommendation of the 12 best Gymnastics Mat.
1. Use of the Mat
Before you buy a mat, think about how you will use it and what qualities the mat should have. If you want a mat to absorb shock when gymnasts come off of the uneven bars or for use at the end of a vaulting lane, then that is very different than what you would need for floor exercises.
Think about the age and size of the gymnasts who will be using the mat. How much traffic will your mat need to sustain? What activities will you be performing on the mat? And how much impact should your mat absorb?
2. Thickness
Thin mats offer less protection, so you need to buy a thicker mat. For example, if you are on the fence about which mat to buy, get the thicker ones.
3. Durability
Gymnastics mats are an investment and you want them to last. Choose a high-quality mat so that it lasts longer. Do not buy the cheap mats because they do not last.
When you look for gymnastic mats look for Double-stitched seams. And you should look for foam combinations that make the mat nice and soft. You want a cover that also lasts a long time. When you buy these mats, they will be better because they're quality and will last longer than cheaper mats.
4. Safety
Safety is always important, but it is especially important for people who are new to something. You might want to make sure your kids are safe or you could be worried about being safe if you do gymnastics.
When you learn handstands, cartwheels, and front walkovers there might be spills and tumbles. The safe mat is here to protect you. Mat for beginners is perfect for learning gymnastics movements like handstands, forward and backward rolls, cartwheels.
Mats should be made from a material that has little give, such as high-density foam or rubber. They should have no sharp edges and must not contain any harmful materials like phthalates that may lead to allergic reactions in children.
5. Maintenance
No one wants to spend a lot of time cleaning their mat. If you are busy training for gymnastics, you always want to find the easiest way to do things. That is why we make our mats and accessories so that they are easy to clean when they get dirty.
6. Flexibility
There are many types of mats for people to use. Some mats are better than others. For example, folding mats can be used for floor routines and skills. You can also use them when they are partially folded up.
Folding gym mats can be connected together to make a bigger mat. Some have strips on just one side, and others have strips on all four sides. The ones with all four strips give you more options on how to set up the mat.
You can use folding yoga mats on the floor for exercise. You can also hang them on the wall if people need to hit it with their bodies, and they will not hurt as much.
Some other factors like Color choices, warranty cover on the product also need consideration while choosing a Gymnastics mat.
Wrestling Mats
Wrestling Mats are a crucial part of any wrestling room. If you want to ensure that your wrestlers have the best possible practice experience, then you need to take the time and find the right mat for them. This article will guide you on how to pick the perfect one!
What to look for in a Wrestling mat
Wrestling Mats are a crucial part of any wrestling room. If you want to ensure that your wrestlers have the best possible practice experience, then you need to take the time and find the right mat for them. This article will guide you on how to pick the perfect one!
Wrestling mats are one of the most essential and expensive pieces of equipment for wrestlers. You can prepare your own practice area in your garage or building.
1. Types of Wrestling mats
A wrestling mat is a surface that wrestlers stand on to practice. There are many different types of mats, all with their own benefits and drawbacks. They mainly come in 3 types
Roll-out mats,
Folding mats, and
Landing mats
Roll Out mats
Roll-out mats are an option for a gym. You can easily put them down and they will stay in one place. They work well if you want to wrestle or do other kinds of workouts.
Folding mats
Folding mats are great for home, school gyms, and studios. Bring them out when you need them and put them away when not needed. As they are foldable they can be easily stored. Multiple mats can be collected with velcro tapes to cover larger areas.
Landing mats
It is for practicing advanced moves. If you fall, the mat will protect your joints and help you not get hurt. You can feel safe and not worry about falling. This mat is made from foam and vinyl covering.
2. Size
Picking the right size of a mat is important in setting up your workspace. You can choose from pre-cut mats, or order custom-sized ones to fit into any designated space.
High School competition- The minimum size of a mat is 38' x 38' with a minimum of 5' protection area around the wrestling circle.
Collegiate competition- The minimum size of a mat is 42' x 42' with a 5' protection area around the wrestling circle.
Here are some options and their benefits:
3. Precut Mats
Do you want your mat to be fast and easy? Then mats that come pre-cut are the best option. These typically come in one large piece, or can also form a full mat when put together with smaller sections of it. Keep these options in mind for storage or transportation purposes as well because they're cheaper than custom-sized ones but just not quite as durable over time as those will stay looking nice forever!
One thing to keep in mind when buying a mat is the length and width. There are many different lengths, ranging from 6×18 ft up to 6x42ft long; however, there might not be enough space for it if you only have an 8-foot wide entranceway or garage door opening.
One important consideration s the various shapes and sizes of the mats. These mats come with multiple sections ranging anywhere between 18 feet by 18 feet all the way up 42 feet x 42 feet.
4. Thickness
The thickness of your wrestling mat is a crucial decision. Thinner mats are lighter, and beneficial when you have limited space to lay them out. The thicker the mat is, the heavier it will be and that might work well for larger spaces where there is enough room to lay them out!
Below are common thicknesses you will be able to choose from:
5/8″ and 7/8″ – Beginner Level Practice
1″, 1.25″, 1.5″+ – folkstyle competition
2″+ -internationally sanctioned matches
8″-12″- Advanced Practice
According to National Wrestling Coaches Association, the most common thicknesses are 1-1/4-inch and 2-inch thick for wrestling Mat.
5. Material
The surface of all the best-selling and most popular brands is made from a non-abrasive vinyl or canvas material. This durable coating helps prevent cuts and cracks in the mat, as well as preventing moisture from soaking into its core; these qualities make them not only durable but also easy to clean!
There are a variety of different types of mats, but they all have one thing in common- the vinyl surface. With this being said, it's not just about the type; some mat surfaces provide more traction than others which can affect your performance when wrestling on them.
For instance, if you're used to slick or smooth floors then rougher textures will be uncomfortable for you. So we recommend that wrestlers find out what their preferences are before making an investment.
The foam core is one of the most important parts of a wrestling mat. The different types and weights can determine how much shock absorption your floor will have, as well as its weight. One common type that's light in weight is PVC nitrile foam, which offers sufficient shock protection depending on the thickness of the mat.
6. Surface
Surface padding is critical because it protects the wrestlers from getting injured. These pads are installed in the walls or any surface adjacent to the wrestling mat. They are an additional purchase along with the mat. But they are not necessary for all kinds of settings like home or garage setup.
If your training is extensive and advanced then you might think of getting them along with your wrestling mat.
7. Standards
Wrestling mats should meet the standards laid out by the wrestling association. For instance American Society of Testing and Materials International (ASTMI) have set standards for wrestling mats for different competitions.
These standards are based on the size and thickness of the mats.
Cricut Mats
Cricut cutting mats or Cricut mats are used in the Cricut cutting machines. These mats hold the cardstock, fabric, and other materials for different projects. Cricut mats are sticky in nature and hold the material in one place. They come in 4 varieties of colors. These 4 colors of Cricut mats are meant for cutting different materials.
Cricut Mats types :
Light Grip (Blue Color)
Strong Grip Mat (Purple Color)
Fabric Grip Mat (Pink Color)
Standard Grip Mat (Green Color)
Light Grip Mats:
The Light Grip mat has a light adhesive grip and it is perfect for lightweight materials that you don't want to tear or rip during the cutting or removal process. Used for lightweight materials like printing paper, vellum, light cardstock, etc.
Strong Grip Mats:
For cutting, use the Strong Grip mat. It has a strong adhesive and this will help your material stay in place. You can tape down any materials like wood or leather with painter's tape or washi tape before you cut them to make sure they don't move during the process.
These mats are ideal for materials like specialty cardstock, glitter cardstock, chipboard, and fabric with stiffener.
Fabric Grip Mats:
This mat is made for fabrics. The adhesive is different from the other cutting mats. One thing to know about this adhesive is that it doesn't stick well if the mat gets oily. Try not to touch the sticky part of the mat with your hands, because it won't stay stuck very well. These mats are used for a wide variety of fabrics.
Standard Grip Mats:
The Standard Grip mat has a grip that can hold down most materials. I use my green mat the most often in crafting. Ideal for medium-weight materials such as patterned paper, vinyl, iron-on, and cardstock.
Plastic Chair Mats
Today a wide selection of plastic chair mats from all the leading chair mat manufacturers is available. This is a perfect product to make the movement of your wheeled chair as easy as possible. Before you choose a plastic chair mat you must understand the benefits of this product on your floor.
You can protect your special and new rugs, carpets, and floors from the damage caused by wheeled chairs. Make sure that you must protect your floor from the constant grind of moving chairs.
This heavy-duty plastic chair mat can be folded in different ways to make flexible or simple coverage. The plastic chair mat is a wise decision of yours that ensures that your rug, carpet, and floor are protected and gives a beautiful look to the office, room, or any area.
As the combined weights of the chair and the user sitting on it puts a lot of stress on the rug, carpet, or hard floor that the chair is moving on, so we suggest you use the plastic chair mat for ease in your work.
Features of Plastic chair mat
The features include blunt end studs that will not pull, devote, tear or damage your carpet. This item is designed with a beveled edge that provides the wheeled chair a smooth on and off movements.
Plastic chair mat is designed as well as properly weighted for strong, low price and commercial grade carpets. The plastic chair mat is the highest quality product that remains with you for a long period of time.
This is specially designed for hard surfaces that safeguard wood, tile, and ceramic floors from marks caused by chair movements. This is available in full size to cover an extensive area and the lightweight foldable quality allows you to choose how much floor coverage you need.
Why the plastic chair mat is different?
The plastic chair mat makes a good sense of providing protection to your investment whether your floor consists of hardwood, vinyl, rug, or carpet, it will safeguard it from daily wear and tear.
The comforting thing is that this item is designed for a tough surface to provide effortless mobility. This is made for the perfect matching of the office or any room decor. The plastic chair mat gives the confidence of providing the toughness that never cracks, tears, brakes, or shatters under normal usage.
Some chair mats shorten the life of the carpets but the plastic chair mat protects and prevents your carpet and floor from damaging. The plastic chair mat eliminates the chance of destroying your floor and carpet and investing you hundreds of dollars and it will be the best plastic chair mat you'll ever see.
Eco-Friendly Floor Mats
Eco-friendly mats are durable and perform the same functions as traditional floor mats. These mats come in many different styles and designs, and you can buy a variety of sizes.
There are many types of mats that you can buy. Some are made from eco-friendly materials like anti-fatigue floors, anti-static floors, and even scraper mats.
How to choose an Eco-friendly Floor Mat
When you buy eco-friendly floor mats, you help reduce pollution. They are made from recyclable materials and this means that they do not end up in landfills. When we recycle, there is less waste sent to the landfills and so the air will be cleaner.
Eco-friendly entrance mats are made from natural materials. They don't release any bad things that pollute the air inside your building, which makes it healthier for everyone. Let's look at the various factors to choose the right eco-friendly floor mat.
1. Quality:
When eco-friendly products were first introduced, people thought that the quality would not be as good. But now we know that isn't true because they are just as durable as other products. This is also true for recycled floor mats.
These mats will keep your establishment cleaner and help people not fall down. They also provide the same benefits as other types of commercial floor mats, but they are better for the environment.
2. Variety:
There are many different mats that you can choose from. Some are oval, some are square and some have round ends. They come in many colors and they can be decorated with designs such as stripes or flowers. You should also check out the variety of shapes you have to choose from for your business.
Self-Healing Cutting Mats
Choosing the right self-healing cutting mat for your needs can be overwhelming. With so many options, you may not know where to start. The key is understanding what type of material will best fit your needs and considering the features that are important to you. This post will help guide you through the process and provide a buying guide to simplify it all!
What to Look for in a Self-Healing Cutting Mat
Factors to consider while choosing a good Self-healing cutting mat. here is our list of best Self-Healing cutting mats.
1. Types:
The two main functions of any Cutting mat are
Protect the Work Surface
Protect your knife from getting dulled
Cutting mats are broadly divided into two type
Soft Surface Mats or Self-healing Mats
Hard surface Mats
Hard surface mats are more rigid and rugged on the blade. They use less energy than softer types because they skim over the mat without cutting into it.
On the other hand, self-healing cutting mats can be flexible or have a colored layer of vinyl that helps to protect against cuts by acting as an extra skin with each pass of your knife across its surface.
When the blade cuts through it leaves a tiny scratch on your mat. These scratches heal themselves and you can use them again to cut more shapes! Self-healing mats are great for crafting because they won't wear out easily.
2. Size:
Your work type should determine the size you need.
For quilting or fabric cutting- A large table size mat is preferably a large mat of size 4feet x 8 feet
Rotary Cutting- You can choose up to 20 meters long and 2.2 meters wide cutting mats.
For general cutting- for any general cutting of paper, cards, and other materials you can choose a normal mat of size 12″ x 18″ or more.
3. Thickness:
Self-healing cutting mats come in three different thicknesses.
The thickest is 7 mm, which are typically used for heavy-duty work with more pressure from a knife or other sharp object that can cause the material to break down and wear out faster.
Thin 2mm hobby craft mats have cores so thin they may be prone to cut through if not handled carefully and would only withstand light use before breaking apart on their own accord while also having fewer applications themselves due to how easily they get damaged even by slight mishandling of them during use.
4. Surface Texture:
Let's talk about the texture of your cutting mat. Too many teeth and you'll have trouble with slipping items, but too slick a surface can affect how well even cuts are made on that item.
The perfect medium is found in mats which offer just enough grip to keep things from sliding around without affecting blade sharpness or precision-cutting ability.
5. Durability:
Cutting mats can wear out, but they don't last forever. Most of them are meant to last for years and will show signs of use depending on how often you cut things. Raed our guide to prolong the life of self-healing cutting mats.
But all the products we carry have a high tolerance against gouging or other marks from knives; these items were made with heavy professional usage in mind.
Of course, most materials won't hold up if your knife is hard enough – even stone has its limits!
We know that the cutting blade of a knife affects its sharpness. A sharper, thinner edge can provide much more control and precision when slicing through tough materials like meat or vegetables because it has less weight to push through them than with the blunt chopping blades on axes or cleavers.
The shape also makes for smoother cuts while not crushing delicate leaves as they are being cut in half down their center spine so you get better yields from your product every time!
It's important for safety reasons too since if someone is holding onto one end of an onion and slices across it without releasing his grip, he might feel some serious pain later once the other layers hit him thanks to all those tiny little pieces now embedded into his skin – just use caution people!
6. Storage:
Cutting mats are made from high-quality PVC material that is heat sensitive. This means you should keep it away from cold rooms to prevent brittleness and cracking.
Most of the large cutting mats shipped rolled up and unroll as you receive them. Always store them unrolled.
7. Cleaning:
Keep your mat clean and it will last for years. Cleaning them regularly with household cleaner or warm water is the best way to keep mats looking new! If you have any stubborn dirt, use an abrasive scrubber like nylon net to loosen it up.
8. Single or Double Sided:
Cutting mats are double-sided and also single-sided. Double-sided mats have been tested to make sure that they will last a long time. You can cut them down if you need to.
9. Tools to Use:
When you are buying a cutting mat, make sure that it is suitable for both rotary and straight knives. All of our cutting mats are suitable for both types of knives. To prevent leaving cut marks in a self-healing cutting mat, always make sure your knife is sharp. Change blades often.
Hope you will find the right information on how to choose the right floor mat for your requirement. If you want to contribute to the article please comment below. Keep visiting this blog for more Floor mat reviews and buying guide.