Are you tired of tracking dirt, sand, mud and water getting onto your floor and house? If you are looking for a place where you can put your dirty shoes, dirty boots, and wet umbrella, then Bot trays can be the answer. Boot trays or shoe trays are efficient products that can trap all dirt, mud and water from getting onto your floor. There are plenty of options available online and offline so how to find the right boot tray that fits your requirement?
Boot trays are good for keeping mud, dirt, snow and water getting into your house. You can drop your dirty shoes in the tray and forget about the clutter. These trays can hold your rain boots, shoes, sneakers, industrial boots, gardening boots and more. These trays come in a variety of designs, sizes, shapes, types, materials, purpose and so on. So let's find out how to choose a right boot tray?
Size is a very important feature for boot tray. They come in different sizes from 12" (inches) to 36" (inches). The size of the designated place should be measured before buying a boot tray. There can be a different requirement like
If you are looking for a tray which should fit under the bench.

Looking for a long-tray at the entrance or entryway.

If you have a narrow hallway, entryway you should look for trays smaller in size.

This tray is a good choice as a pet feeder.

Sometimes you will need a set of trays for a particular requirement.

If you are looking for a very large tray which can hold 4 or more shoes of the family.
Best 12 Inches Boot Trays
Best 24 Inches Boot Trays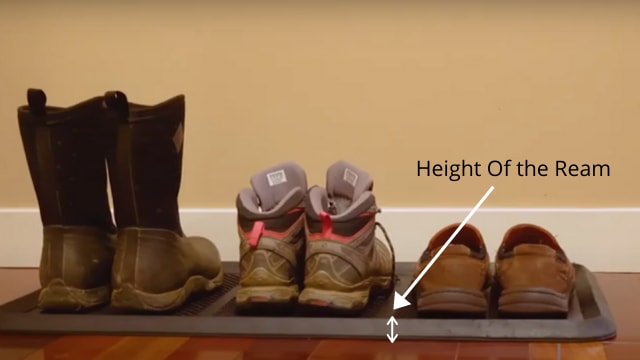 The height of the ream plays a vital role. The more the height the better it can hold and retain water, mud, snow and dirt. A low height tray will not hold a lot of water during winter and rainy season. Water will start dripping on the floor and you will have a cluttered entrance.
Boot trays are multi-purpose in nature. So you should choose the best boot tray which satisfies your requirement. They are used as
Pet feeder- Dog/cat can feed on this tray. You can keep the food bowl and water bowl together. It will hold all the clutters of your pet during feeding.

It can hold gardening tools while in the backyard working on your plants.

This acts as a plant and decorative items container.

They are used for storage and also in the shelves for keeping chemicals and other kinds of stuff.

These trays are efficient for small paint jobs, art and handicraft project.
Boot trays are available in many shapes like square, rectangle, long and custom size. Find the best one which suits the utility requirement of yours.
Material is an important factor is choosing the right shoe tray for your requirement. Because some rubber trays are smelly and it takes a long time to wear the smell.
They come in a variety of materials
Hard Propylene Plastic

Rubber

Steel with copper

Bamboo Tray

Zinc
Boot trays come in a variety of designs. They are printed, embossed, grooved and decorative. Choose the best which fits your home décor. This design also makes them efficient like some trays with grooved design allow air to pass through them making the shoe dry faster.
Last but not the least; you want the tray to last long. Durability is a concern for every product. Durability increases the value of the product. Some boot trays last longer without any trouble but some break in the middle and some get rusted. Choose the best tray which is made of good quality material and resistant to weather and chemicals used at home.
Apart from all these some other factors like waterproof, flexible and chemical resistant also need to be considered before buying the best boot tray mat.