Enthuze Vs Weathertech Floor Mats [What Mats are Better?]
Good quality floor liners and mats are your car's first line of defense. An extensive collection of All-weather floor liners is available in the market, and it sometimes becomes challenging to pick the one that suits one's requirements.
Several aspects need to be considered while buying these floor liners so that the flooring and carpet of your car remain protected from all the harsh elements.
Popular brands such as Weathertech are easy to pick. However, some alternatives can be well thought out if you are ready to explore.
The following article compares Weathertech floor mats with Brand Enthuze Floor mats for our readers. The comparison will lead you to decide whether to choose this alternative or not.
Enthuze Floor Mats Vs Weathertech [Comparison of Important Features]
1. Enthuze vs Weathertech – Origin & Availability
| | |
| --- | --- |
| Enthuze | Weathertech |
| Enthuze is a Canada-based brand.   Exclusively distributed by CTP Distributors throughout Canada. | A recognized American brand.   Sold (Offline and online) worldwide. Distributed by local and international dealers. |
Before we start analyzing the crucial aspects of both the brands, from this basic information about the two brands, we can see that Weathertech has a massive outreach in terms of marketing.
People who want to buy made-in-US products will definitely prefer Weathertech.
2. Material & Construction (Weathertech Vs Enthuze)
Enthuze Floor Mats/Liners
Weathertech Floor Mats/Liners
Made of patented rubberized, weather-resistant thermoplastic material.  

Feature an eco-friendly, thicker, low-density polyethylene construction—textured finish.  

Effective to prevent gasoline and oil stain/damage—even battery acid.  

Provides complete flexibility that is guaranteed to withstand years of use and abuse. It claims good durability.
Made from an advanced rubber-like Thermoplastic Elastomer (TPE) compound.  

The brand uses an OEM- approved, high-density tri-exuded material.

Feature a protective, non-sticky finish. Engineered to protect your vehicle from extreme messes.  

Stay flexible in the coldest of temperatures. Comes with craftsmanship that will last for a lifetime.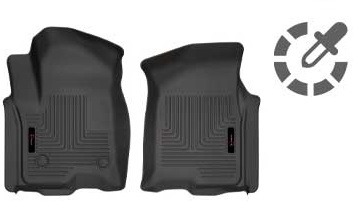 The most important aspect for buyers is the construction of floor mats.
Enthuze is also made with rigid quality material that conforms perfectly to most automobiles. The floor mats last for a long and hold their shape.
It can be preferred by people looking for a good quality floor liner that is budget-friendly too. But if we just compare it with the patented HDTE material used in Weathertech floor liners and mats, it will definitely score low.
Using hi-tech Thermoforming processes for constructing mats ensures a high-quality final product.
In addition, these mats can withstand extreme weather conditions and have a protective covering that enhances the aesthetics, besides being easy to clean.
Based on the material & construction used in manufacturing, Weathertech is a winner when we compare both these brands.
3. Shape and Design (Enthuze Floor Mats V Weathertech)
Enthuze floor liners/Mats
Weathertech Floor mats/liners
Digitally designed to offer complete floor coverage and total protection considering a specific vehicle in mind.  

Raised edges & special grooved design that helps contain water, dirt, sand, gravel, and any other elements you might encounter.  

These custom floor mats/liners are made for all three rows as well as cargo.  

Available in three different colors (black, grey, and tan).  
Complete edge-to-edge design and give maximum coverage.  

Raised edges feature a unique retention system and factory-mounted points on the driver's side to enhance functionality.  

These floor mats are available for both front and rear sides and also cargo in some instances.  

Available in four colors (black, grey, cocoa, and tan).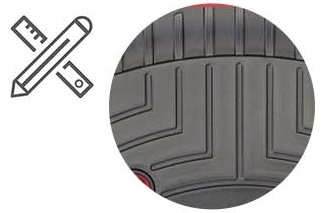 Comparing both brands, we find that both brands share good features in terms of shape and design. However, Weathertech is known for its craftsmanship & classy look.
Enthuze floor liners are thoughtfully designed. The Enthuze custom floor mats/liners are measured with precise craftsmanship. Enthuze is preferred by many because of its waterproofing ability and durable material at an affordable price.
Winner based on design: Scores are level here!
4. Fitment & Custom Vehicle Range (Weathertech Floor Mats Vs Enthuze)
Enthuze floor liners/Mats
Weathertech floor mats
They are custom-molded for specific vehicle types, so you can expect the best fitment possible.  

They are entirely waterproof and retain their shape in extreme climatic conditions.  

Great for larger vehicles, such as SUVs, trucks, pick-up vans, etc.   Limited stock
Weathertech curates an All-weather custom-fit floor mat and trim-to-fit range.  

Matches the car's specific configuration.  

Known to make floor mats for almost every vehicle on the road. Huge outlay and stock readiness.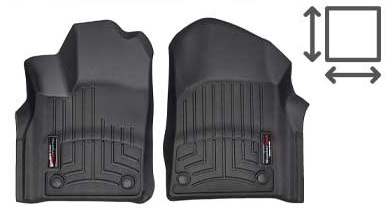 Enthuze mats are specifically designed to fit your car's flooring. They are specifically designed with large vehicles in mind.
They do have variety in their kitty but not as massive as Weathertech.
They are colossuses in terms of vehicle application. Their universal trim-to-fit range is the most sold-out product online.
Winner based on fitment and range: Weathertech.
5. Which Floor Mats are Easy to Maintain – Enthuze Or Weathertech?
| | |
| --- | --- |
| Enthuze floor liners/Mats | Weathertech floor mats/liners |
| Simple installation. Medium weight, so easy to lift and clean. Air dry or towel dry and reattach them to the hooks. | Installation is quick and simple.   The floor mats are heavy. Though can be easily lifted for cleaning.     |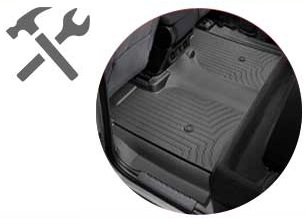 Cleaning Enthuze floor liners is a snap! Just detach your liners from the hook, ensuring there are no spills.
Next, shake off loose dirt or debris and spray with a garden hose or a spray gun from the local car wash.
Alternatively, scrub them down with soap and water. The brand recommends not to use harsh chemicals as they might damage the liners.
Weathertech floor mats are comparatively heavy. However, they are simple to remove and can easily be cleaned with a water hose and some detergent for the tougher stains.
Winner: Both Enthuzeand Weathertech Floor Matsequally easy to maintain.
6. Price (Enthuze Floor Mats Vs Weathertech Floor Mats)
Enthuze floor liners
Weathertech floor mats/liners
Reasonably priced. Attracts most of the customers who are looking for value for money products.  

Example- Two rows of a sedan will cost you $189
Expensive than other alternatives because of its technology and tougher material.  

Example-Three rows of a sedan (honda odyssey) from Weathertech can easily top $280. (Price may vary from portal to portal)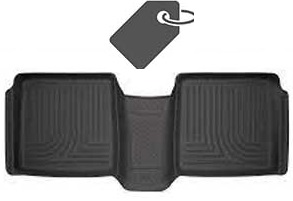 We know that many factors affect the price of a floor liner. These include where you buy them from, the material used and units you purchase (for the front or rear or both), and of course, the brand.
One of the most significant selling points of Enthuze liner is its price. As a result, enthuze mats have a competitive edge over weathertech floor mats in terms of price.
Winner: Enthuze floor mats are reasonably priced with good features.
7. Warranty, Returns and Shipping
Enthuze liners
Weathertech liners
Backed by a limited lifetime guarantee. Return with RMA number within 14 days.  

Free shipping is available within Canada (with exceptions within Yukon, Nunavut, Labrador North West Territories, and other remote areas).
Backed by 3 years & lifetime limited-time warranty. The products have a 30-days return policy.  

Shipping is chargeable. The product is replaced at no charge for the damaged product. If you go for exact product replacement you may be charged a pro-rata amount.  
Although weathertech floor mats have a limited lifetime warranty, the brand does charge for shipping. It is advisable to confirm the same while buying from any e-commerce portal, including amazon.
It is recommended to buy directly from their home portal if you are outside the 48 contiguous states. Weathertech's customer service is impressive.
However, for people of Canada, Enthuze has a good warranty and free shipping. Also, Enthuze has an excellent customer service team and is happy to help with any installation or troubleshooting issues, and the customer reviews are good as well.
Winner based on customer support and shipping charges, & policy: Both Weathertech and Enthuze keep their customers happy on the front of customer service.
Weathertech Floor Mats Vs Rugged Ridge Floor Mats (Comparison Summary)
| | | |
| --- | --- | --- |
| Feature | Weathertech | Enthuze |
| Country of origin |  USA | Canada |
| Fitment | Two Options- Custom fit and trim to fit | Only custom fit |
| Material | High-Density Tri-Extruded (HDTE) material & 100% recyclable | Elastic TPE and 100% recyclable |
| Density | High density | Low density |
| Protection | Year Around | Year Around |
| Thickness | Thick | Thinner than weathertech |
| Color | Four | Three |
| Weight | Heavier | Lighter |
| Design | Pronounced lip, raised edges, advanced surface channeling. | Raised Edges & Surface Channels. |
| Warranty | Limited lifetime warranty | Limited lifetime warranty |
| Shipping | Chargeable | Free shipping within Canada |
Wrapping up
Weathertech floor liners are slightly more expensive than other alternatives because of their technology and tougher material.
Enthuze is a brand for budgeted buyers but has restricted availability (only in Canada). Moreover, they are more plastic and less rubber compared to weathertech
The above comparison of the two brands on various fronts will undoubtedly prove helpful for prospective buyers of Canada before making a final choice.