Lasfit Floor Mats Vs Weathertech [Comparison of All Features]
Floor mats separate your feet from your car's flooring and protect them against spilled liquids and other debris.
Many factors, such as the aesthetic look, feel, functionality, and durability, should be considered when buying floor liners/mats for the interior protection of a vehicle.
Many premium brands in the U.S. market cater to different needs and offer custom-fit as well as trim-to-fit floor mats/liners.
In the given article, we have compiled the best attributes of two of the most reputable manufacturers of vehicle floor mats – WeatherTech and Lasfit.
We will compare the two companies' floor mats on multiple aspects so that you make a well-informed purchase decision and happily use them for years to come.
Weathertech Vs Lasfit [Comparison of Important Features]
1. Construction technology
WeatherTech floor liners/Mats
Lasfit Floor mats
WeatherTech brand is the gold standard for many consumers as they conform perfectly to most automobiles.  

These custom floor mats/liners are measured with precise craftsmanship using advanced DigitalFit technology.

WeatherTech gives you more sidewalls, but its front protection only goes up half ways.

The brand designs thicker floor mats that hold their shape, as per the makes and years of vehicles.
Lasfit uses a state-of-the-art 3D laser scanner & Blister molding technology that ensures a perfect custom fit for your car.   

The custom-designed channels and raised edge effectively trap liquids, rain, slush, snow, or mud to keep your car spotlessly clean.

Lasfit provides better coverage as it seals better on both the door and back sides facing the driver's seat. It also covers a lot higher upfront.

However, Lasfit floor mats are softer, making it difficult to hold up without support.

Going through the points mentioned above, it is evident that the manufacturing process and technology used in the production of mats by both brands are different with respect to advanced technologies that have their own set of advantages.
However, both brands are certified by ISO 9001
As the table shows that WeatherTech uses advanced digital fit technology to perfectly ensure that the product conforms to the specific automobile model. 
The custom-designed raised edges of Lasfit floor mats are more flexible and effective in trapping accidental spills, slush, snow, sand, and whatever else you might bring inside your car. 
Though WeatherTech produces robust and thicker heavy-duty constructed floor mats that effectively prevent spills and debris from reaching the car carpet, its front protection area coverage is not perfect compared to Lasfit, which provides better sealing.
Winner: We recommend the Lasfit brand in construction and technology.
2. Material
WeatherTech floor liners/Mats
Lasfit floor mats
WeatherTech uses a patented High-Density Tri-Extruded (HDTE) material to create floor liners/mats that are ergonomic and have well-defined surface channels.  

The advanced heavy-duty Thermoplastic Elastomer (TPE) used to manufacture WeatherTech floor mats is flexible and wear-resistant.

These mats are almost odorless, harmless, and anti-skid. They may expand during very high temperatures but return to their original shape later.
Lasfit car floor mats are made using environment-friendly TPE material that is completely free of allergens, latex, BPA, lead, phthalates, cadmium, dioxins, and other toxic ingredients.  

The Thermoplastic Elastomer (TPE) used to manufacture these mats has a soft touch, flexibility, and an exquisite finish.  

These floor mats are textured to make them resistant to slips and skids and are recyclable. These mats are completely odorless and flexible at all temperatures.

If we talk about the material used to manufacture the floor mats, both WeatherTech and Lasfit stand on the same podium.
Both brands' floor mats are odorless and non-toxic. 
WeatherTech and Lasfit use rubberized materials. But then again, the processing makes all the difference. WeatherTech brand uses advanced robust TPE materials that are firmer than Lasfit and is relatively softer to touch.
Talking about the smell at the time of unboxing, Lasfit has a minimum smell, and the scent is hardly noticeable. WeatherTech floor mats have a stronger smell comparatively while you unbox the same. However, the smell wades away quickly and is not disturbing.
Winner based on material usage: WeatherTech is superior to Lasfit floor mats if you can ignore the slight initial odor that quickly vanishes after unboxing.  
3. Shape and Design
WeatherTech floor liners/Mats
Lasfit
WeatherTech Floor Liners are digitally designed and completely cover the carpet giving it absolute interior protection.  

The factory-mounted points on the driver's side keep them secure and in place.

The additional retention system on the mats/liners also corresponds with factory-mat mounting points.  

WeatherTech mat models ordinarily don't come with a gas pedal notch.

To match your car's interiors, these mats are available in four colors (black, grey, cocoa, and tan).  

The logo on the mat is stuck inside. It may get mess around the indentation.
Lasfit floor mats offer a sleek, stylish look with a molded 3D shape that perfectly aligns with the factory-grade carpeting.   A complete edge-to-edge design.

A cool feature is the locking hook/nibs that Lasfit mats offer.

The mats have cleats and nibs on the underside, effectively securing them to the floor.

Lasfit floor mats/liners give a pin lock to the driver's and passenger's sides. It also has a notch to provide adequate protection to the gas pedal.

The floor mats are available in only one color-standard black.  

The Lasfit logo is clean up and doesn't look stuck on like the WeatherTech logo—no accumulation of gunk.

As the table shows, both brands use the latest computer-aided technologies in designing their products.
WeatherTech and Lasfit floor mats have raised edges on all sides to safeguard the interiors better. Both are anti-slip mats with clasps or snaps that hook to the original car carpeting.
On one end, WeatherTech offers better protection, predominantly at the rear end of the car. They are designed with an additional retention system (a distinct reservoir) that better holds mess than Lasfit floor mats.
What's more, WeatherTech offers a wide color choice, while Lasfit mats are available only in black color.
Conversely, Lasfit has a better locking system and retention at the front. Moreover, the logo ornamentation of Lasfit is more pleasing and practical. 
Winner: Both brands' levels score on shape and design based on different perspectives. 
4. Fitment & Custom Vehicle Range [Lasfit Vs Weathertech]
WeatherTech floor liners/Mats
Lasfit mats
Weather tech floor liners are laser-measured to match your car's specific floor configurations for a custom fit (digital fit) & semi-custom (universal trim to fit).  

The brand manufactures floor mats for every row- front and rear sides (separately), cargo, trunk, etc.  

These products are easy to install.  The brand stocks mats for almost every vehicle on the road.  
Lasfit floor mats use advanced computer modeling to ensure a near-perfect custom fit. They don't have trim to fit mats. These floor mats are available for both front and rear sides, with limited cargo or trunk liners for a few models.    

Available for a good array of models and makes of cars, trucks, and SUVs, but still cannot match the range covered by WeatherTech.  

These mats are quite easy to install and have locks to tighten them up to stay in place.   

Installation of both the brands, WeatherTech as well as Lasfit, is quite simple and does not take much time. One doesn't require any tools or professional help for installation.
Lasfit has an additional cool feature that distinguishes it from other brands- Locks! Simply put these liners inside your vehicle and lock them in place. 
Nevertheless, WeatherTech overpowers Lasfit in terms of vehicle applications, product range, and options that include mats, liners, trunk bed mats, etc. Their universal trim to fit mats is made to fit virtually any vehicle.
Winner based on fitment and range: WeatherTech floor liners/mats.
5. Maintenance
WeatherTech floor liners/Mats
Lasfit Floormats
All WeatherTech floor liners are simple and easy to clean. The surface channels on the floor mats carry all the debris and trap dirt and spilled liquids effectively.

The mats can be taken out and dusted off.  

Auto tech cleaners are also an effective way of restoring old WeatherTech mats that might have greyed due to everyday use.  

Floor mats are heavy and have too many spikes underside; these mats can be lifted and conveniently cleaned easily.
Due to raised lips and molded outer edges, the Lasfit floor mats/liners do an excellent job of locking in all the accidental spills, dirt, mud, and harsh elements.  

Lasfit floor mats are softer and easier to lift. They can be cleaned with a water hose and some detergent for the tougher stains.  

They have fewer spikes on the back edges that may protect you from accidental damage while lifting the mats out of the vehicle.

In the area of maintenance, both brands fair equally well. WeatherTech and Lasfit floor mats offer ease of operations to car owners.
Both can be installed easily and can be cleaned effortlessly. The loose dirt can be washed out using a water hose or pressure washer. You can also use a bristle brush to remove any sticky dirt that may be tough to remove.
However, we'll give this category to Lasfit, who scored a little higher than the average ratings achieved by WeatherTech.
6. Price [Which is the cheapest floor mat – Lasfit or Wethertech?]
WeatherTech
Lasfit
WeatherTech floor liners are more expensive than their alternatives.  

High Shipping cost increases the overall budget.

This is evident from the fact that all two rows of a sedan from WeatherTech can easily top $170. *Price may vary from portal to portal.
Lasfit Floor mats are reasonably priced as compared to WeatherTech.  

No shipping cost makes it affordable.  

Most Lasfit floor mats for two rows come in the $120-$140.

Several factors affect the pricing of floor mats/liners. These include where you buy them from, units you purchase (for the front or rear or both), and of course, the brand.
Lasfit mats have a competitive edge over WeatherTech floor mats in terms of price. 
For example, the Lasfit mats for Honda Accord cost around $129 compared to the liner of the WeatherTech Honda accord costs around $189. 
Lasfit floor mats are considered more budget-friendly than the WeatherTech mats, which can make you go way beyond your budget.
Winner: Lasfit floor mats are reasonably priced with good features. As far as no-shipping cost is concerned, it is a deal snatcher.
7. Warranty, returns, payments, and shipping
WeatherTech
Lasfit
WeatherTech floor mat products are backed by three years & lifetime limited-time warranty. Plus, one has an option for in-store as well as wholesale purchases.  

They have international deliveries. The products have a 30-days return policy. All the terms and conditions are similar to any other auto accessories products.

The brand functions with a replacement policy.

They replace the product at no charge for damaged product delivery or charge a prorated amount if you go for exact product replacement after some use.

Superb customer support.
They are guaranteed against any faults or defects for a lifetime.

They don't offer in-store or wholesale purchase options. They don't have an international delivery option.  

Lasfit ships their floor mats free anywhere in the contiguous U.S.  

Lasfit offers a no-questions-asked return with a full refund for up to 45 days (90 days for elite members) and does not even charge shipping costs.  

In replacement/e exchanges, buyers must bear all return shipping charges plus a 15% restocking fee.   Good customer service team.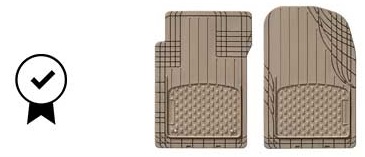 Although WeatherTech & Lashfit floor mats have a limited lifetime warranty, the brands do not honor purchases made by unauthorized dealers.
It is sensible to check while buying from any online portal. It is suggested to buy straight from their brand's portal. 
The returns and refund policies of Lasfit are very customer-centric. Lasfit levies no shipping charges both for new purchases and return pick up.
Also, Lasfit has numerous financing & payment options for its customers, including Shop Pay Installments Support, Amazon pay, and Google pay.
In contrast, WeatherTech has an exorbitant shipping cost because WeatherTech maintains a high standard of handling and shipping protocol.
Again, WeatherTech offers international deliveries but lacks financial (installment) support and multiple online payment options that Lasfit offers.
WeatherTech customer service is far more impressive compared to Lasfit. However, Lasfit customer service reviews are good as well.
Winner based on payment options, customer support, and policy: In totality, both WeatherTech and Lasfit fare equally on this front, but looking from a buyer's perspective, Lasfit has a more customer-centric approach.
Lasfit Vs Weathertech Floor Mats [Comparison Summary]
| | | |
| --- | --- | --- |
| Features | Weathertech | Lasfit |
| Country of origin |  Bolingbrook, Illinois USA | Ontario, CA, USA |
| Brand recognition | Higher | Less popular than WeatherTech |
| Fitment | Two Options- Custom fit and trim to fit | Only custom fit |
| Material | High-Density Tri-Extruded (HDTE) and sustainable material | Elastic TPE and 100% recyclable |
| Density | High density | Low density |
| Thickness | Thick | Thin |
| Color | Four | Only one-Black |
| Weight | A bit Heavy | Lighter |
| Design | Pronounced lip, raised edges, advanced surface channeling. | Raised Edges & Sleek Channels. |
| Stain removal | More comprehensive, shallower grooves made them easier to clean. | More profound, but narrow grooves but easy to clean for most spills, dirt, and mud. |
| Customer support | Strong | Good |
| Warranty | Limited lifetime warranty | Limited lifetime warranty |
| Shipping | Shipping charges may apply within the 48 contiguous states. | Free shipping & return within the 48 contiguous states. |
| International shipping & wholesale purchase option | Yes | No |
| In-store pickup | Yes | No |
| Online Payment options | Debit & Prepaid Card Support/PayPal Support/Gift Card Support | Debit & Prepaid Card Support/PayPal Support/ Gift Card Support/Amazon Pay/Google pay support. Shop Pay Installments Support |
Wrapping up:
The overall winner might be WeatherTech in brand popularity, quality, distribution, and range. Still, Lasfit, too, has its advantages of being a good & affordable product that exhibits respectable features.
Lasfit and WeatherTech are premium brands offering many features for all kinds of automobiles. The choice ultimately depends on your requirement and taste, along with the budget you have planned.
Finally, whichever brand you choose for your car, do remember that floor mats and liners are crucial auto-accessories to protect the interiors of your car from harsh elements and day-to-day wear and tear.