Quadratec Vs Rugged Ridge Floor Mats [Which is Better?]
When choosing floor liners for an SUV or Truck, especially as a jeep owner, you have a lot of choices to make. There are liners of different quality, colors, textures, and brands, and the choice can sometimes be a little overwhelming.
We have compared two leading brands trading in floor liners for Jeep – Quadratec and Rugged Ridge! Both are premium brands offering almost all features that protect the interiors of your vehicle. This will help you pick up the best floor mats.
Rugged Ridge Vs Quadratec Floor Mats [Comparison of Important Features]
1. Quadratec & Rugged Ridge – Brand Comparison
Quadratec Floor Liners
Rugged Ridge Floor Liners
Quadratec began its journey back in 1990.   The brand is a trusted direct-to-enthusiast Jeep parts retailer and warehouse distributor.  

Deals in more than 1lakh premium quality parts and accessories.   Quadratec floor liners are made in U.S.A brand.
Rugged Ridge is a newer brand, established in 2005.   The brand was established by designing & develop new products and product lines.  

Presently over 3,000 products for the Jeep market, some of which are patented.   Build by USA-based parent company Omix.
Both brands are equally placed regarding the origin and expertise in Jeep parts and accessories. They are entirely made in USA brands. They are designed to be very functional and look good.
On the one hand, Quadratec is a pioneer in automatic aftermarket retailing and warehouse distribution from hundreds of manufacturers. Rugged ridge is a subsidiary of Omix-ADA, the world's biggest independent producer of Willys & Jeep restoration parts.  
Overall going by brand popularity and customer reviews, Quadertec scores high.
2. Material & Technology
Quadratec Floor Mats
Rugged Ridge Floor Liners
Engineered from a unique material designed to be long-lasting and durable.  

Made from a high-density rigid rubber material.

The liners are double the thickness and weight of most other liners.   Their Tru-fit & digital fit floor liners are laser measured.  

Advanced surfacing details easily channel away all the mess you bring in with your shoes.  
Made from a premium grade, injection-molded thermoplastic material.  

To trap liquids, the floor liner has molded deep ridges.

Their all-terrain and Universal trim to fit floor liners are lighter and attach to your Oem hooks.  

Can withstand the rigors of daily abuse without any visible damage.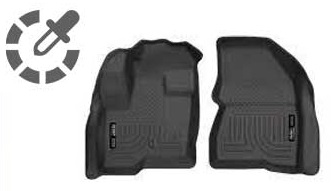 Quadratec and Rugged Ridge are high-performing brands that utilize the latest technology and premium quality material to give their customers the best that the industry offers.
These front and rear liners are designed to fit perfectly inside your jeep.
While the Quadratec floor liners may not absorb oil or moisture comfortably, they have the added advantage of being thicker and can hold up to 40% more water-like liquids than other liners.
They are tested at sub-freezing and 100+ Fahrenheit temperatures and do not crack, melt or warp in extreme conditions.
Hence if we only go by material usage: Quadratec is a bit superior to Rugged Ridge floor mats.
However, Rugged Ridge floor mats/liners are made from a durable rubber material that can withstand harsh conditions like dust, snow, sand, and grime. They also have an anti-slip surface that keeps your feet safe when driving on snow-covered roads.
Moreover, these heavy-duty floor liners from Rugged Ridge are also equipped with a self-sealing hook attachment that blocks away all the moisture while ensuring that the liners are firmly in place. Also, they are resistant to punctures and tears.
Winner: We recommend the Rugged Ridge brand in construction and technology.
3. Design and Functionality
Quadratec Floor liners/Mats
Rugged Ridge Floor Liners/Mats
The floor liners follow the exact contours of the floor plan and fit like a glove.  

The liners have a unique 5/16" deep tread pattern.  

They feature pre-installed original equipment style retention snaps.   Improved easy-fit carpet anchor design and extra tall sides.
 
Most of the variety is available in Black, but they also have options in tan or gray color.
These all-terrain floor liners are perfectly contoured to your vehicle's floor.  

Chevron shape patented deep tread technology.  

Raised lip keeps all the dirt and debris from reaching the carpet and keeps your vehicle as pristine as ever.  

These floor liners have anti-slip nibs for plenty of traction. These floor mats are available for both front and rear sides and in color- Black, Tan.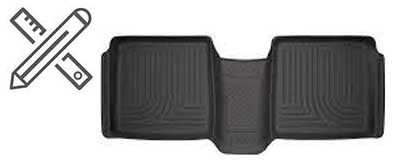 Quadratec has a unique easy-fit carpet off-road built-in three-dimensional tread pattern design that effectively contains water and debris, keeping your flooring and footwear clean.
Quadratec has more color options that give it an edge over Rugged Ridge liners. Also, they feature a shallow tread area beneath the pedals that provides a comfy heel pad.
Rugged ridge floor mats are custom-molded to offer unparalleled protection to the interiors. The high perimeter wall around the edges provides extra protection and does not allow moisture and grime to spill over.
Both brands' levels score here.
4. Fitment & Custom Vehicle Range [Rugged Ridge Vs Quadratec]
Quadratec floor liners
Rugged Ridge Floor Liners
Feature nylon carpet/nibbed hooks reinforcement ring to keep them safely in position.  

Preferred mainly for the JL Wrangler, Jeep Gladiator JT, and other jeep variants.
It can be attached to factory retention hooks with self-sealing floor hooks. Caters to more models, makes, and sizes.

From 1976 to the most recent models, not only from Jeep but for Chevrolet / GMC Silverado / Sierra, etc.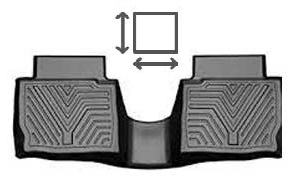 Installation of Quadratec and Rugged Ridge floor liners is convenient and straightforward and does not take much time.
They both provide added grip when installed. However, coverage under the gas pedal for Quadratec floor liners is just average.
Again, regarding in-house production of vehicle range/ brands, Rugged ridge has more options part from jeep models. Quadratec only caters to automotive parts for Jeep vehicles.
Winner based on fitment and range: Rugged Ridge
5. Which Floor Mats are Easy to Maintain – Quadratec Or Rugged Ridge?
Quadratec Floor Liners
Rugged Ridge Floor Liners
Maintenance is not an issue as all you need is water and mild detergent.  

These digitally fit floor liners are pliable and easily removed for cleaning with a simple garden hose.
Easy. Due to raised lips and molded outer edges, the Rugged Ridge floor mats/liners do an excellent job of locking in all the accidental spills, dirt, mud, and harsh elements.    

It can simply be cleaned with a water hose and some detergent for the tougher stains.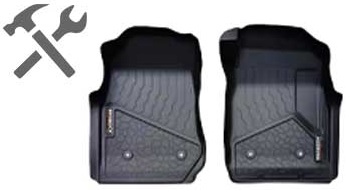 Considering the aspect of maintenance, both brands are up to the mark.
Quadratec and Rugged Ridge floor mats are customer friendly and can be installed and removed for cleaning efficiently.
6. Value for Money
Quadratec Floor Mats
Rugged Ridge Floor Mats
Price is significantly lower than its competitors like Weathertech.  

Offers the best limited lifetime warranty.  

The price ranges above $100 approximately.   The mats are mainly available on its home portal.    
Cheaper.

Limited lifetime warranty.  

Their Universal fit floor mats start from $58, and the All-terrain variant starts from $62.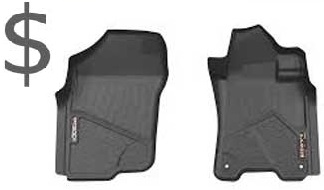 Talking about warranty & shipping, Quadratec & Rugged Ridge brands offers a limited lifetime warranty against any manufacturing defects.
No hassles 30-DAY return policy. And thus, give you the peace of mind that you have made the right choice.
Ouadratec has excellent phone tech support for the life of the product price matching policy. Other terms and conditions are similar to any other auto accessories products.
But regarding pricing, Rugged Ridge has a slight edge over Quadratec as it is a cost-effective solution.
Winner: Rugged Ridge floor liners are reasonably priced with good features. a complete value for money buy.
Quadratec Vs Rugged Ridge Floor Liners (Comparison Summary)
| | | |
| --- | --- | --- |
| Features | Quadratec | Rugged Ridge |
| Country of origin |  West Chester, PA | Atlanta, GA |
| Brand Recognition | High | Average |
| Fitment | Only custom fit | Two Options- Custom fit and trim to fit |
| Material | High-Density Tri-Extruded (HDTE) material & 100% recyclable | Elastic TPE and 100% recyclable |
| Density | High density | Low density |
| Thickness | Twice as thick as other liners | Standard thickness |
| Weight | Quite heavy | Lighter |
| Design | The pronounced lip, raised edges, and fastening system is excellent. | Raised Edges & Sleek Channels. |
| Warranty | Limited lifetime warranty | Limited lifetime warranty |
| Shipping | Free Shipping within the 48 contiguous states and Canada. However, oversized items may attract additional handling charges. | Dealership in 90 countries worldwide. Free shipping within the 48 contiguous states. |
| Stain removal | Stain resistant, and easier to clean due to the carefully designed grooves. | More profound, but narrow grooves. Easy to clean for most spills, dirt, and mud. |
| Promotional Gift card Buying option | Yes | No. However, Rugged Ridge does offer coupons and discount codes |
Final Words:
Both Quadratec and Rugged Ridge floor liners are custom-made for Jeep vehicles. Both brands give tough competition to each other, and it ultimately depends on your personal preference and requirements.
If you observe, then the brand popularity of Quadratec is higher than the Rugged ridge mats, but then the latter scores high on affordability and trim-to-fit option.
From the above analysis, we can infer that whichever brand you choose, be assured that you will get value for money.