Weathertech Mats – A Complete Guide [Features, Sizes, Cost & More]
Primarily known for its floor liner brand of heavy-duty rubber floor mats, Weathertech company manufactures the finest automotive accessories, including trunk liners, windshield sun shades, mudflaps, drink coasters, window shades, and a ton of other products.
Every 8 out of 10 people searching for auto accessories in the USA (both online and offline) end their purchase with the leading brand Weathertech products to protect or enhance their vehicle ownership experience.
If you wonder why this brand is unbelievably popular among vehicle owners, read on to quench your thirst for a convincing answer.
Weathertech brand sets the bar high in several aspects with its excellently built custom-fitted floor liners and trim to fit every automobile, taste, and budget.
Floor mats/liners from Weathertech mats are designed to protect car floors from dirt, spills, mud, and other elements that can harm car interiors. These floor mats are tougher, have longer durability, and perform better than other car mats available on the market.
Where Are Weathertech Mats Made?
Weathertech is a 100% Made in America Brand!
Founder and CEO of Weathertech, the leading manufacturer of floor mats and floor liners, David Macneil redefined the car-mats category in the American automobile sector in 1989.
About 95% of its products are manufactured in Bolingbrook, IL (Illinois), which also happens to be the company headquarters.
Right from designing, getting tested, and after approval, all Weathertech products are mass-produced in the same facility.
Furthermore, the company's plant location in America is home to various resources- from best materials, leveraging leading-edge technologies, and hiring skilled laborers.
It is important to note that all equipment, materials, and business services are used in manufacturing.
Weathertech products are sourced within the United States. The company operates all its order fulfillment, marketing, and shipping operations right from this location in America! 
Note: The brand has its publicly-accessible factory store just a few paces from the conveyor belts in the facility. Some of the best products in car protection are on display and available for purchase!
Key Features of Weather Tech Mats
As mentioned earlier Weathertech mats are the inventor of custom-fit floor liners. They are specially designed for specific models/makes, but at the same time, weathertech also makes floor mats that are trimmable to fit your car.
Again, the company mats can be classified as FloorLiner, All-Weather Floor Mats, Trim-to-Fit Floor Mat & Heavy-Duty Trim-to-Fit Mat.
The key feature of Weathertech floor mats are:
1. Advanced rubber material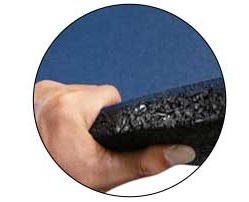 Weathertech mats are made of single-layer High-Density Tri-Extruded (HDTE) material. Irrespective of the wide variety of product ranges, all products by the brand are highly durable and remain flexible under extreme temperatures.
The rubber compound makes the mat resistant to scratches and water. These rubber mats are easy to clean and don't fade when exposed to extreme conditions. The USP of weather tech mats is that they are fully recyclable.
2. The perfect fit design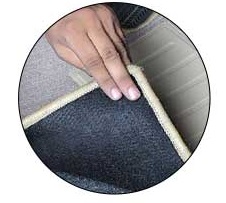 Weathertech mats are ergonomically designed using advanced DigitalFit technology that enables it to measure the configuration of all vehicle models to exactness.
These laser-measured & well-fitting mats give a cleaner finish to the car interior.
3. Designed to channel spills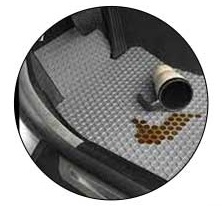 The mats have rugged outer ribbing or deep grooves which act as reservoirs.
The high-walled design ensures dirt and spills get trapped and don't mess around the car floor.
Moreover, the shallower grooves make them easier to clean.
4. Superb Grip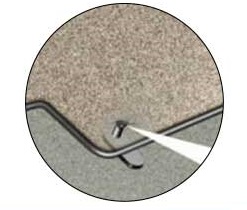 The weather tech car floor mats have a TechGrip retention device and are made using odorless, non-toxic, and anti-skid materials.
The mats have a more grippy surface and extruded cleats that create traction.
This makes the floor mats sit in their place irrespective of how heavy the passenger or driver is.
5. Colossal custom range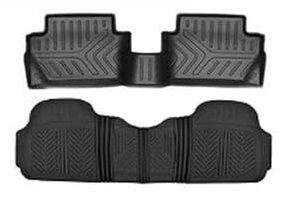 The grand old brand is known for its excellent inventory; it has a wide variety of vehicle applications.
Also, its custom-digifit & universal trim to fit floor liners & mats models suits the old and the new models.
Similarly, the brand offers four color options matching every vehicle's interior and the owner's taste.
6. Warranty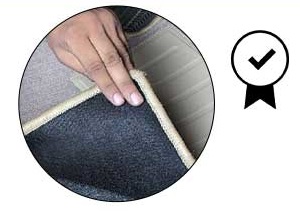 Weathertech floor mat offers an excellent lifetime limited warranty option on their products. The company also has a provision for replacement and a 30-day return.
7. Weathertech mats color options
WeatherTech floor mats and liners are usually available in black, tan, cocoa, and grey colors.
Weathertech Mat Sizes
The next generation of WeatherTech's car floor mats is designed for various vehicles. One has to select the make, model, and year and you will get the best-recommended products, be it floor liners or all-weather mats. The weathertech universal Trim to fit mats virtually fits any
vehicle, from your compact or mid-sized car, truck, SUV, or minivan's interior. It is the most affordability, dependable and practical mat on the market.
Do Weathertech Mats Fit All Cars
The company caters mostly to all auto brands, including American, Japanese, Korean, Italian, Dutch, Chinese, German, and more.
The mats and liners are designed to match any car's specific floor configurations and are easy to install without using any tools. They have floor mats for front and rear sides and cargo truck liners, including a bumper protector.
WeatherTech makes floor mats for almost every vehicle running on the American road. There is a massive custom range of liners and all-weather mats for car owners. Even the very old or peculiar models can be protected with their Trim to fit semi-universal mats.
Here is the list of a few top vehicle brands
| | |
| --- | --- |
| Top Brands | Product Line: 2-Door, 4-Door (Sedan, Coupe, Hatchback), SUV, Minivan Truck |
| Dodge | Charger, Challenger, Durango, Caravan, Dart, Viper |
| Toyota | Camry, Avalon, Corolla (US, Canada) Highlander, Sequoia, Sienna, Tacoma, Tundra |
| GMC | Acadia, Canyon, Sierra, Yukon, Hummer EV |
| Chevrolet | Tahoe, Trailblazer, Suburban, Silverado, Traverse, Malibu, Colorado, Camaro, Corvette, Silverado, Spark, Volt |
| Jeep | Grand Cherokee, Wrangler, Renegade, Wagoneer, Gladiator, Liberty, Commander, Patriot |
| Mercedes-Benz | C-Class, GLE-Class, GLS-Class, Maybach |
| Honda | Accord, Civic, CR-V, Odyssey, Pilot, Ridgeline |
| Ram Trucks | Ram 1500, Ram 2500/3500 Heavy Duty, ProMaster |
| BMW | X3, 4, 5,6,7, Mini lineup |
| NISSAN (Renault-Nissan-Mitsubishi) | Leaf EV, Altima, Maxima, Rouge (US, Japan), Pathfinder, Murano, Titan, Frontie |
| FORD | Bronco, F-150, Explorer, Mustang, Ranger, Taurus, Bronco, Escape, Expedition, Lincoln Aviator, Nautilus, Navigator |
| Cadillac | Escalade, ATS, CT4, CT5, CTS-V, XT-Series, |
Other famous brands include- Acura, Audi, Aston Martin, Buick, Chrysler, Fiat, Kia, Hyundai, McLaren, Volkswagen Maserati, and Volvo.
Are Weathertech Mats Interchangeable?
WeatherTech mats do not come under the category of general mats.
WeatherTech floor liners and mats are lasers measured and custom fit for your vehicle's specific year, make, and model. So, it is not advisable to use them in any other vehicle.
Do Weathertech Mats Go Over Existing Mats?
You must remove all existing floor mats before installing WeatherTech mats as they will not fit properly over the old ones and cause interference with the brake pedal and accelerator.
This can be very unsafe for operating the vehicle.
WeatherTech Vs WeatherTech HP
WeatherTech comes with a promise of quality and craftsmanship that will last for a lifetime.
Among all its products, the WeatherTech HP is the next generation of high-performance floor liners designed, engineered, and manufactured in the United States. The HP floor liners are the advanced and upgraded version of its standard range of floor liners in many ways.
Unlike standard weather tech floor liners that are hard and rigid, the WeatherTech HP is made of a flexible rubber-type material.
Further, it boasts advanced surfacing that carries and locks fluids and debris. They have a specially designed retention system and non-slip nibs that keep it locked.
The difference between the two products can be understood from the following table.
| | | |
| --- | --- | --- |
| Features | WeatherTech | WeatherTech HP |
| Design | Three-dimensional tray-type floor covering with standing walls. | A three-dimensional flexible rubber-like mat those drapes over the floor. The beveled edge prevents the walls from curving inwards and provides ultimate stability. |
| Material | The WeatherTech Floor liner is made of a harder, more rigid material | The WeatherTech floor liner HP is made out of a softer, more flexible material |
| Fitment | More coverage due to rigid construction. The coverage extends higher up the front, sides and back of the vehicle's footwell. | The coverage area is less compared to floor liners.   |
| Vehicle Application | Can be used in any vehicle | Currently available for select models only |
| Durability | Highly Durable | Designed to last longer |
| Sustainability | 100% Recyclable | 100% Recyclable |
How Much Do Weathertech Mats Cost?
The average weathertech mats/liners cost is higher than all other brands available. However, few weathertech mat models are also available from $65 onwards.
The cost of Weathertech mats depends on the types, sizes/positions, and kinds of vehicles. Let's analyze each factor in detail.
1. Cost based on Mat Type
When purchasing WeatherTech mats, people get confused weathertech floor liners and floor mats. Though both the products protect your vehicle's floors from spills, damage, etc., the difference lies in the amount of protection they offer.
A weather tech floor liner offers better protection. Weathertech Custom-fit floor liners are more expensive compared to other WeatherTech range of universal floor mats.
Weathertech Floor Liners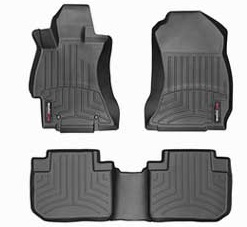 Weathertech builds custom fit, laser-measured FloorLiner in two variants – standard and high performance (HP).
Apart from offering the same benefits, the Weathertech floor liner HP is designed with high-raised edges for better control over the mess.
They also have anti-skid nibs and underside texture, keeping the mat in place.
The Weathertech floor liners are available anywhere between $60 – $300 depending upon the vehicle's make, year, and model.
Weathertech Floor mats (All-Weather Floor Mats & Trim to fit Mats)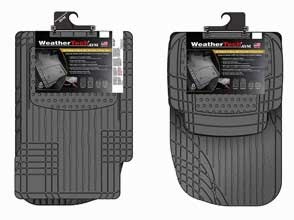 These universal types of floor mats are custom-designed to fit the floor of practically any vehicle. Made from sturdy rubber-like Thermoplastic Elastomer (TPE), these mats can withstand rough treatment from muddy/dirty shoes, spills, and so on.
These all-weather mats come either as universal heavy-duty or normal trim to fit types; The mats are created using injection molding.
Because of so many variations in the car models, Weathertech Trim-to-fit mats are designed to be trimmed to fit virtually any vehicle with its unique shaping features.
From millions of buyers' review, it is inferred that this universal trim to fit Weathertech floor mats cover the car floor perfectly fine without needing any adjustments.
The WeatherTech Universal Mats are the cheapest and available anywhere between $30 – $200.
The trim-to-fit mats range between $45 and $55 for a three or four-piece set.
Trunk or cargo mats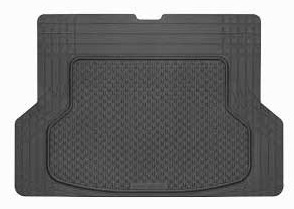 To protect your vehicle's trunk or cargo area, these Weathertech mats can act as your ultimate savior.
These custom-fit designed mats (made for behind second row or third-row seating) for cars, SUVs, and Minivans also come with a WeatherTech bumper protector to help protect the surface of the car's bumper from scratches and dings while loading or unloading sports equipment, other personal items or pets.
The WeatherTech Cargo trunk Mats will cost you anywhere from $90 – $300
2. Cost based on Positions/sizes

Floor mats are made and used for different locations/ positions in a vehicle, including all the three rows (front/ first, second, & third or rear), second-row under-seat, & center aisle.
A buyer can go for any row or combination of rows, depending upon the requirement. Buying a floor mat in only one position will be the cheapest.
For example, a weather tech flat floor mat for a center- aisle can be bought for less than $50.
If you opt to buy weathertech digifit series floor mats for all three rows, then be ready to shell out about $200 to $400 and above, depending on the make and model. Usually, the color options for these mats don't affect the cost of the same.
3. Cost of Weather tech mats based on vehicle types
In an ever-changing automobile world, new types of cars are launched on the market every year Weathertech company manufactures floor mats for almost all brands of cars, trucks, minivans, and SUVs.
The company offers floor mats and liners according to body types of specific brands and their respective models while giving options for Coupe, Hatchback, and Sedan.
You will find weather tech floor mats for compact cars, medium-sized cars, microcars, or extra-large cars.
Two-row set costs of a sedan from brands like Honda, Toyota, and Chevrolet, usually fall between $50 -$110.
Front row set costs of a Coupe from a brand like BMW, Mercedes Benz, Honda, etc. start from $69 – $200
All row set costs for popular hatchbacks from a brand like Nissan, Ford, Mini, Kia, and Hyundai can pinch your pocket between $115-$190
Summary Of Weathertech Floor Mats Cost Range
| | | | |
| --- | --- | --- | --- |
| Types Of Weathertech Mats | The minimum cost for one row/pc/set | Cost Of Full set/all rows | Vehicle Types |
| All-weather floor mats | $34-$100 | $110-$199 | All types of vehicles (including old and new) |
| Trim to fit | $45-$55 (3 pc set) | $50-$60 (4 pc set) | Fit virtually any vehicle |
| Floorliners HP | $65-$115 | $200-$327 | Mainly all new makes and models. For Older models Trim to fit universal mats are available. |
| Cargo trunk Mats/liners | $45-$135 | <$199(only floor liners come with trunk protector)   | Universal mat for Cars, SUVs, trucks and Minivans |
Why Are Weathertech Mats So Expensive?
Brand WeatherTech has been the most highly rated brand in auto accessories for the past 30 years because of its competency in delivering premium floor mats that fit like a glove.
The company used high-density tri-exuded advanced rubber material (all sourced in the United States) and designed with digital laser measuring technology for some of its mat's products to ensure precise sizing. 
The reason why weathertech mats are expensive is because of their following USPs over other popular brands:
It's a completely Made in America brand. From American material, American machines, American labor, the workmanship, and quality is superior, making it an expensive product.
These heavy-duty floor mats/liners guarantee the best durability. It's a one-time purchase for any vehicle.
The use of sustainable 100% recyclable materials and processing make these mats free of latex, cadmium, lead, or harmful PVCs.
Are Weathertech Mats Worth It?
Weathertech is one of the leading and biggest auto accessories brands in America. Car owners may find it expensive, but its extraordinary functional output and durability make it worth the investment. Let's understand the logic.
Firstly, a simple car floor mat doesn't protect your vehicle well in terms of dirt, spills (especially behind the pedals and against the sill plate), mud, and rowdy children. Also, these ordinary mats are difficult to clean and don't hold up nicely while driving. 
Weathertech mats protect your vehicle from extreme messes and can easily be cleaned.
Secondly, ordinary mats become useless after a couple of years of service, but Weathertech is remade to last as long as your vehicle.
The robust manufacturing process undertaken by the brand gives unmatched performance and a high-quality finish. The material used in the mats has the toughness of plastic and the elasticity of rubber mats.
Thirdly the design of weathertech mats prevents dirt, liquids, and all the other elements from hitting your carpets. They use the laser measurement method for precise fitment.
Fourthly the mats are 100% recyclable, wear-resistant and UV-resistant. These mats are thicker and heavier than all other brands.
Lastly, the brand has an excellent inventory for almost all vehicles (over 1,000 vehicles/ models) running on American roads
Where To Buy Weathertech Mats
1. Weathertech Website
The simplest way to explore a wide variety of Weathertech mats is by visiting WeatherTech website.
Most of the WeatherTech products are made in factories within the United States. WeatherTech offers two publicly accessible stores with some of the best mats on display and available for purchase.
These stores are located in Bolingbrook, IL, and Broomfield, CO, and you can conveniently stop in and walk out with your WeatherTech mat. What's more, you can enjoy a complimentary coffee bar and treats while you wait for your order.
2. Online Marketplaces
WeatherTech floor mats are available on official marketplace stores -Amazon.com and Ebay.com.
3. Authorized dealers/stores
WeatherTech has over 10,000 authorized dealers throughout the United States. To find one of these, visit the Dealer locator now!
How Long Does It Take to Get Weathertech Mats?
1. For online purchase
It takes around 5-7 working days for FedEx ground shipping service to deliver your package unless you have selected express shipping.
Packages are shipped from Monday to Friday. Once you have chosen the mats you want to purchase and added them to your cart, you are given additional shipping options, depending on the place of delivery.
These shipping options include USPS Parcel Post, 3 Day service, Ground service, 2 Day Air, and next-day delivery. Moreover, the brand offers free shipping for standard-sized products & ground shipping within the 48 contiguous states.
2. Offline purchase
If you stop by a store to purchase your mats, you don't have to wait! 
Maintenance Of Weathertech Mats
1. Do Weathertech mats smell?
No, WeatherTech mats do not have any odor at all. Whatever little smell you may notice when you unpack your new WeatherTech mats also dissipates within no time.
2. What is the best way to clean weathertech mats?
WeatherTech mats can be cleaned easily at home.
Simply remove the mats from your vehicle, and rinse them with fresh water to remove loose dirt.
Use a mild detergent and warm water to scrub the entire surface.
Wash the product with clean water and let them dry.
Use a specific floor mat cleaner if required. These cleaners are sprayed, brushed, and wiped off.
Don't forget to clean the bottom of the mat, as there are ridges to make them stick to the floor.
Lastly, rinse and clean the mat again and let it dry.
Put the clean and dry mats back into your car and enjoy the spotless floor.
3. Are weathertech mats slippery?
The bottom of WeatherTech mats has special texturing lines or ridges that ensure they do not slide or slip.
4. What to do with old weathertech mats?
Old WeatherTech mats can be dropped at specific recycling centers.
5. Can Weathertech mats be painted?
It is highly recommended not to paint your WeatherTech mats as they can ruin the material they are made up of. Moreover, it also voids the limited Lifetime warranty you receive with the product.
6. Are Weathertech mats recyclable?
All WeatherTech mats are made of Thermoplastic Elastomer and do not contain any latex, PVC, heavy metals, plastic, Cadmium, etc. They are 100% recyclable and conform to all safety standards.
Weathertech Customer Service and Warranty
Do weathertech mats have a warranty?
WeatherTech floor mats are backed by three years & limited lifetime warranty that guarantees that the product will be free from any defects in materials and craft for the life of the original buyer and only for the original automobile they were installed in.
Terms and conditions are largely the same as other auto accessories ranges.
Note: For returns, most weathertech mat products offer a 30-days return policy.
For replacement- The company will/shall replace the product at no charge in case (i)of damaged product delivery or (ii) charge a prorated amount if you go for exact product replacement.
Shipping: The brand offers free- shipping for most of its floor mats range.
How good is Weathertech mat's customer service?
Although WeatherTech boasts of premium quality products designed to last for a lifetime, the customer support service offered by the company is average. 
Final Words:
Weathertech Floor mats/liners are designed so that the mat scores are high on material, durability, sturdiness, fitment, comfortability, and stickiness underfoot. They increase the resale value of your vehicle by upgrading its protection to traditional floor mats.
Weathertech is a high-performing brand that offers floor liners and mats for every automobile and every taste.
Known to perform excellently in areas of maintenance and reliability make, Weathertech is the best choice for drivers than other counterparts.
Finally, Weathertech, as a pioneer brand, manufactures everything you need to elevate and protect your vehicle from inside-child seat protector, sunshades, under-seat storage, door protector, phone cup holder mounts to pet ramps and so on.