Wade Floor Mats Vs Weathertech [Comparison of Key Features]
The driver's, as well as the passenger's feet, bring in snow, dust, mud, and gravel inside the car. Floor liners help protect the car's interiors from spilled liquids and food, which could leave behind a microcosm of bacteria that could be very harmful to the health.
Hence, it is advisable to take out some time and do a little bit of research so that you buy the product that is best for you.
Doing a little research before going out for a specific brand is always advisable.
Here is a ready reckoner for you that will give you a very good idea about the features of Wade floor mats and Weathertech and how they differ from each other.
Wade Floor Mats Vs Weathertech [Comparison of Important Features]
1. Wade vs Weathertech – Brand Comparison
| | |
| --- | --- |
| Wade floor mats | WeatherTech floor liners/Mats |
| Established in 1986   Crafted in the USA   Well-known Division of Westin Automotive Products   Limited Product range- Sure-Fit Floor mats, cargo mats, wind deflectors, bed caps, headlight and tail light covers, and other products for most popular late-model trucks & SUVs/CUVs | Founded in 1989   It is an American motor vehicle company.   Extremely popular FloorLiner brand for all car owners   Massive Product Range- All-weather Floor/cargo liners and Universal trim to fit floor mats, all interior and exterior protection accessories, including auto detailing and cleaning products |
Both brands stand on the same pedestal when talking about their origin and experience in the auto accessories sector. Both are Made in USA brand and has more than three decades of experience.
Weathertech is a top-of-the-line vehicle protection parts brand. It has a greater recognition than Wade Auto floor mats. Wade Auto has a limited but impressive Auto Product range.
However, compared with the colossal automobile accessories range and production capacity of Weathertech Limited, the Westin Automotive company's subsidiary (known aftermarket product manufacturer) does scoreless.
Weathertech has a floor liner range of three to four times more than any other premium brand. Weathertech floor liners come in a far wider range of fits (models and makes of cars, trucks, and SUVs). They even serve older vehicles which is impressive. 
2. Material and Design (Weathertech Vs Wade Floor Mats)
Wade floor mats
WeatherTech floor liners/Mats
Cutting-edge computerized technology.  

Authentic rubberized copolymer (a super-strong material).

Designed with rigid core & tactile surfaces.

Usage of 3M automotive-grade velcro for excellent grip.

Complement your vehicle's interiors mainly in 3 colors black, grey, and tan. (They do have cocoa color in limited vehicle variants
Advanced digital-fit technology.

Made of single-layer High-Density Tri-Extruded (HDTE) material.

High-raised edges and Techgrip retention Surface.

Rugged outer ribbing or deep & shallow grooves.

Available in four colors
Winner based on material & design: WeatherTech is superior to Wade in many respects.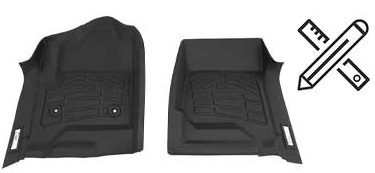 The rubberized floor mats from both brands are flexible and hold shape even in extreme temperatures.
Talking about construction, Both Wade and Weathertech uses digitally-engineered design processes to curate a textured, non-slip surface for sure footing.
Although both Weathertech and Wade use sturdy, best-fitting, highest-performance materials for their floor liners range, however weather tech's advanced robust TPE materials are firmer than Wade's copolymer material. 
Also, Weathertech is the only brand that has designed its floor liners with a separate reservoir (Equipped with a TechGrip retention device) to channel out spills away from the traveler's feet. They impressively guard the carpets against potential wear.
Instead of relying on pronounce nibs and hooks that are designed on floor mats to dig in the carpet to keep them in place, Weathertech brand's liners rely on its grippy surface. Alternatively, it protects from getting hurt while pulling out the floor mats for cleaning. 
3. Fitment and Maintenance (Wade Floor Mats Vs Weathertech)
Wade floor mats
WeatherTech floor liners/Mats
Mats are custom molded to offer full-coverage protection.

Offer only custom-fit digitized mats.

Provide extra traction.

Designed to cover the front door sills.

Standard thickness. Easy to install and clean
Laser-measured & well-fitting mats that are created through injection molding.  

Offer two fitment range-custom fit (digital fit) & universal trim to fit.

Extruded cleats create superb traction.

Thicker floor mats. It gives complete sidewall protection.

Heavy floor mats offer ease of maintenance.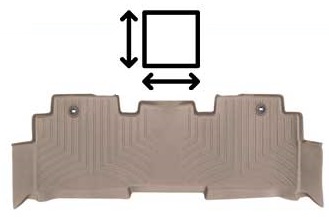 The fitment feature of both the brands offers walls to walls coverage for both front and rear sides.
If weathertech is made with factory-mounted points to keep the liners secure and in place, then Wade Auto floor mats are equipped to accommodate OE retention hooks and raised textured surfaces for solid traction. 
Wade floor mats have excellent coverage that extends to the door sill plates. Both brands don't design floor mats for vehicles with vinyl flooring.
In terms of maintenance, wade and weathertech floor mats are fair and equal. The product material is easy to lift and hose off for quick cleaning.
4. Price & Availability (Weathertech floor mats vs Wade floor mats)
Wade floor mats
WeatherTech floor liners/Mats
A cheaper option. The price range of liners starts from $50 onwards.

Available only online   Sheltered by its parent company Westin, Wade auto makes its products available all over the country using its giant distribution centers
A premium brand, weathertech is far more expensive than its substitutes.  

Available in stores, authorized dealers' shops, and online marketplace stores.   Excellent inventory and distribution network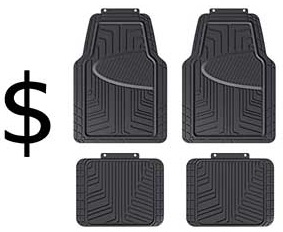 Going by its reputation and quality, Weathertech is a premium-priced brand. The products, especially floor liners, are affluent and high on budget.
People consider purchasing Weathertech floor mats to upgrade their vehicle's overall look and maintain its resale value. For them, it's a one-time investment that's worth every penny.
However, there are car owners who have limited pocket and still wants to save their vehicle from daily abuse such as spills, mud, dirt, etc.
Moreover, they will surely think about that alternative if they get an affordable choice against weathertech.
Wade floor mats are cheaper and can provide elegant interior design to their car. The product is long-lasting and readily available online.
Hence in terms of price, Wade auto floor mats are a good choice.
5. Warranty, return and shipping policy (Weathertech floor mats vs Wade)
| | |
| --- | --- |
| Wade floor mats | WeatherTech floor liners/Mats |
| Limited Lifetime Cost-effective shipping charges Exchanges or returns are accepted within 30-day period They do have international deliveries option Good customer service | Lifetime limited-time warranty Shipping cost is high 30-days return policy Worldwide availability Excellent customer support system |
Quality floor mat Brands always have customer-centric policies. Be it warranty, return, or shipping.
Both weathertech and Wade offer a limited life time warranty on their products with a 30-day return window. Both brands levy shipping charges on their product lines.
Winner based on warranty, customer support, and shipping policy: In totality, both WeatherTech and wade Auto are at par.
Wade Floor Mats Vs Weathertech Ridge Floor Mats (Comparison Summary)
| | | |
| --- | --- | --- |
| Features | Wade floor mats | Weathertech floor liners/Mats |
| Year & country of establishment | 1986 -USA |  1989-USA |
| Fitment & Range | Only custom fit Limited product line | Variants- Custom fit and trim to fit Extensive product line |
| Material | Rubberized co-polymer material | High-Density Tri-Extruded (HDTE) material & 100% recyclable |
| Density | Low | High density |
| Protection | All-Season | All Weather |
| Thickness | Standard thickness | Thicker than all brands |
| Color | Three | Four |
| Vehicle application | Average | Massive |
| Design | Feature drip barriers | Feature special reservoir |
| Warranty | Limited lifetime warranty | Limited lifetime warranty |
| Shipping charges | Cost-effective | High |
Wrapping up
The article has tried to provide all information about the two brands and their respective USPs.
Brand Weathertech overpowers WadeAuto products concerning wide range, design technology, and availability.
However, regarding SUV and truck parts and accessories, Wade™ manufactures and distributes quality and well-engineered products in the automotive industry.
Both are quality floor mat brands that boast a robust molded rubberized construction and have a contoured, skid-free surface that grips the mats to the surface. Both offer full coverage that extends to the door sill plates. 
Finally, the selection of an ideal product for the car should be shortlisted by the owner themselves as they are the best ones to judge their needs and requirements.