Best Baby Floor Mat | Top 9 Floor Mats for Babies
Babies are the most precious gift for parents they ever had in their life. They play, cry, smile, and provide joy to their parent's life. Taking care of growing babies is not an easy task as it requires so much attention and dedication towards them.
Parents must protect their babies from avoidable harm while playing and crawling on floors. Good quality foam floor mats are best for growing babies for crawling and playing.
Choosing the Best floor mats for Babies in the early stages of their life results in the protection and development of the kids.
Floor mats for kids are available in different colors, sizes, designs, and materials.
They are also available with features like inbuilt music, lights, and mirrors to make your baby always smiling.
They are available in different varieties like foam material, eco-friendly material, and are free from toxins material caring for the health of babies.
The preferable place to play for babies is the floor of the home. It helps in the growth of the muscles naturally and learns to crawl, roll, and walk.
Editor's Pick: The Best Bby Floor Play Mat
In a Hurry?
Check this Best Floor Mat For Babies to Crawl & Play: Balance From Puzzle Exercise Play Mat
Top 10 Floors Mats for Babies
Best Floor Mat for Baby: Top 9 Floor Mats, Pros & Cons
1. Baby Care Reversible Play Mat for Infants
This mat is designed for play and learning purposes. It can be used from both sides and has one side beautifully printed of A to Z alphabets with cartoon images to attract and help your baby to gain learning skills at the initial age of its childhood. Its reversible and learning purpose design has made us put it on the top of our list of Best floor mats for Babies.
Features:
Education theme printed on one side adds educational benefits for your kids.
The reversible feature will help you to use another one side if one gets dirty while playing or eating.
Made up of thick cushioning that assures child safety.
Pros:
This mat is easy to clean and dry as it is waterproof.
Accurate thickness and softness to save from a fall while playing.
Non-slippery surface as eco-friendly PVC material is used.
Large in size
Free from toxins material like EVA, formaldehyde, latex extra.
A free two-year warranty on the product is available.
Cons:
Stains are not removable even after a quick wash.
A to Z alphabets are not in series.
2. SoftTiles Kids Foam Play Mat
This baby floor mat come with sloped edges and cushioned tiles of 5/8″ are extra-thick and provide a spongy feel underfoot. Its sloppy edges prevent stumbling. A wide variety of colors and themes of animals and flower prints are available to choose from with these baby floor mats for crawling kids that are attractive and good-looking for your baby.
Features:
Comes in the size of 78″ x78″; 5/8- inch thick
Cleaning of these soft tile floor mats for kids can be done with a damp cloth.
Useful to create designer playrooms for babies with more colors and fun.
Pros:
This baby floor mats for crawling is soft and light.
Non-toxic Eva foam is used in it.
Best for a home with hard tile and wooden flooring.
Slopped edges prevent kids from falling.
Cons:
The plastic smell after opening, which disappears after a few days of use.
3. BalanceFrom Puzzle Exercise Play Mat
Best floor mats for Babies come with 16 tiles pieces that can be interlocked with each other by you or your baby. The tiles can be arranged to make a mat of different shapes and sizes. Four different colors of tile in this mat make it easy for kids to build the mat. The strength of the baby's problem-solving skill is improved when he/she try to arrange 16 tiles pieces to build up a mat.
Features:
High-density EVA foam material is used to make this baby floor mat.
Company give guarantees that the product is durable for a long period.
Cutting edges ensure the secure fit of tile interlocking with each other.
This mat is attractive and unique.
Pros:
Large play area with softness.
Mild soap and a damp cloth can be used for cleaning.
Free from non-toxic material like lead, formaldehyde, etc.
Large in size of 6×6 feet.
Two-year warranty by the company.
Cons:
The plastic smell after opening, which disappears after a few days of use.
4. Tadpoles Soft EVA Foam Play Mat
Features:
Non-toxic and doesn't contain phthalates and lead.
Re-arranging can be done in any shape and size.
Soft cushioning helps in preventing injuries from hard falls.
It comes with 16 foam pieces and removable centres that are easy to assemble with 16 border pieces.
Covers the are 50''x50″; 0.4 inch-thick.
Fulfils all US and European testing standard requirements.
Pros:
The interlocking mechanism is completely different.
Easy to wipe up and clean.
Easy to assemble and lightweight.
No toxic material was used.
The foam thickness is accurate.
Cons:
Interlock panels get loose after few years.
5. Infantino Activity Gym and Play Mat
This floor mat for Babies of Infantino mat comes with a playing toy for your babies. It is most suitable for babies of age ranging between 0- 3 years. Its thickness serves as a more comfortable playing ground.
Toys are added with the scope of sharpening the skill of babies for future growth. All the toys attached are removable and can be adjusted by parents according to their requirements.
Features:
It includes a tummy pillow that provides wide support and relief to the baby's tummy.
The Overhead system of toys helps the baby to get enhanced their motor coordination.
It comes with the BPA free teething materials
It is foldable and can be store easily.
Pros:
Easy to clean.
Various texture and beautiful design pattern.
Detachable toys for easy wash.
Adjustable handle arms in two different styles.
Tummy pillow provides several benefits.
Cons:
When baby turn tummy pillow slips out very easily.
6. ProSource Kids Foam Puzzle Floor Playmat
Best floor mats for Babies have both numerical and alphabet puzzles, learning themes. The educational design will assist your baby to master learning skills early by introducing them to numbers and alphabets.
A thick high EVA 3/8-inch thick foam is used in its material. Foam has a good thickness as it provides cushioning to the baby and lesser the sounds of toys falling on it at playtime.
Features:
It has 36 foam piece of 1 square foot each size
When foam pieces are combined, they build up a 6×6 massive size foot mat.
It has high quality; vibrant primary colors love by every baby.
Mat gets its finished look from its straight border.
Easy to assemble and provides safe playing above hard floors.
Ideal design for bedrooms, pre-school, and other play areas.
Pros:
Lightweight and portable
Gentell textured material is non-slippery.
Highly durable and waterproof EVA foam.
Free of toxic materials, making it healthy to use for kids.
Design can be modified according to day to day requirements.
Easy to pack.
Cons:
Little bit thin borders.
It can be slippery for babies playing without socks.
7. Stalwart Floor Tiles- Baby Mats
This floor mat for Babies provides your kids versatility and a large area to crawl on. It is highly designed with quality and intention with shock-absorbing cushioning material. This high-quality material once connected offers a soft playing, crawling, or walking area with a highly comfortable environment for your baby. In the list of top 10 mats, it is one of the Best floor mats for Babies.
Interlock edges get connected very easily.
It has eight tiles with a green tile dimension of 12.625 x 12.625 x 0.5 inches.
Tiles are red, yellow, blue, and green in colors.
Quick to disassemble.
Includes .375 inch of EVA foam thickness
Rectangle tile dimension is 24.5 x 48 x .5 inches.
Pros:
Non-slippery and waterproof material.
High grip on hard wooden floors.
Non-toxic material for kids' safety.
Easy to assemble and disassemble.
East to store even at small places.
Easy to clean
Shock absorbing
It can be used outdoors and indoors.
Cons:
Colors get fade early after regular use.
Interlocking tiles get loosen with time or with a change in designs.
8. Pehr Magical Forest Round Playmat
This Pehr Magical Forest Round Playmat has a high-quality fabric. With its small printed design, it makes a place in one of the most beautiful 100% cotton filled with poly material mats affordable to buy for your babies. It has extra fluffiness with a general wave pattern quilted.
Features:
It is a high-quality mat with a diameter of 40″.
Printed of design is done by AO free dyes, which are healthy and non-allergic material.
A good amount of poly filling is done to provide more comfort for your babies.
It has a dimension of 40 x 40x 1 inch.
It can be dry at low heat.
Dry cleaning is not suitable.
Pros:
The cotton used is so soft.
Extra fluffiness provides safe playing.
Beautifully design.
East to wash in the machine.
Lightweight
Cons:
The round shape is small in size.
Risk of getting exterior cotton layer tearing if used uncarefully.
9. Soft Foam Baby Crawler Mat by YIMINYUER
This floor mat for Babies is fabulous and favorable for raising babies. Its size and vivid colors will attract your child to stay happy and smiling always. The mat is so comfortable and non-smelly, as it will be loved by your baby. Its appropriate cushioning work is done for the high safety of the child. Its large size is suitable for your baby to play, roll, crawl, and sit.
Features:
Exciting design and colours are developed for babies to encourage their intelligence.
The foam pad is soft and suitable for babies.
The extra softness of foam protects rolling and crawling baby head and legs fetting hurt from the solid floor of a home.
Multipurpose usage allows this mat to be used as a baby play mat, and also its foam pads can be utilized to do yoga and fitness exercise by kids' parents.
The dimension of each tile 30*30*1.0 cm. Includes 18 pcs of a set.
Pros:
Easy to carry and store.
Less time consuming while cleaning.
Protects from floor heats.
Outstanding grip decreases the risk of baby slipping.
The upper surface is also non-slippery and is a little bit rough.
Non-toxic material
Cons:
The risk of getting cut if sharp objects are used.
Buying Guide to Select the Best Floors Mat for Babies
Multipurpose:

A mat that is useful for another purpose other than playing for kids is preferable. While making a final buy, you can also choose a mat that can be utilized for cardio, yoga, outside in lawns for sitting, kids playing, etc.
Less effort in washing and cleaning: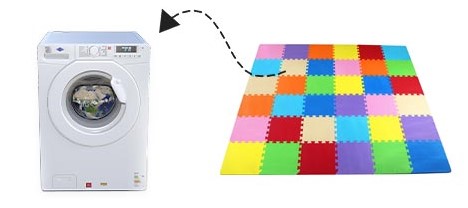 While playing baby makes the mat dirty and full of stains of food and other stuff. It will be more suitable if you buy a mat that is easy to clean and gets dry fast so that it can be used again for the baby to play on it.
Size: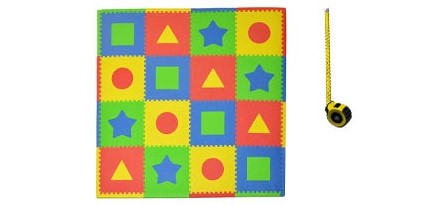 Various sizes of mats are available in the market. You must buy a mat of a size that fits in your bedroom, kids' playroom, living room, etc. whichever room your baby plays mostly. Buy the mat best in size for your baby to play and also compatible with your room.
Material:
The durability of the mat depends on the quality of the material used in it. Ensure before buying that material used is of high quality and non-toxic for the safety of the baby.
Protective: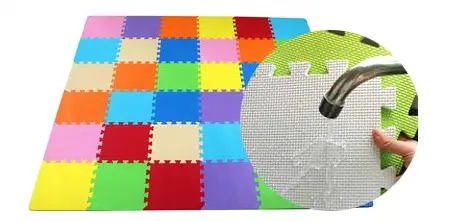 The floor mat for babies you buy must fulfill all the measures of safety and protection. You must buy a mat that is safe from skin allergies, slipping, and skidding while the baby plays on it. It must have a soft cushioning material to protect the baby when he falls during learning walks on it.