3D vs 5D vs 7d Vs 9D Floor Mats [Key Differences & Suitable Usage]
It is not every day that you buy the car of your dreams. No wonder you want everyone to admire your prized possession and choose the best car accessories that go with it.
You need to be careful while selecting accessories as they reflect your personality. No one wants to sit inside an unruly, grimy, and smelly car! However, the best solution to such issues is simple – Car mats.
They serve multiple purposes and are available in plenty of variants to suit every requirement and preference. Besides trapping all the dust and grime, they give a chic look to your car's interiors.
Car floor mats are almost the same material as your office or home.
Many people do not pay much attention when buying car floor mats, although this should be the priority as floor mats make the interior more hygienic and presentable and protect the flooring from damages due to accidental spills, dust, and stains.
Instead of selecting any random floor mat for your car, read on to know more about the different types of floor mats available in the market and make a well-informed decision.
We have extensively researched and compiled important information regarding the best products available. Read on to know more!
3D Floor Mats
What is a 3D floor mat?
3D floor mats are premium-looking mats available in black, beige, and tan shades. These mats are slightly more expensive than your regular mats and give a premium fit and finish to your car's interiors.
These 3D mats fit almost every vehicle, and the grooved design traps all the dust, water, and spilled liquids, so the flooring is not damaged. What's more, these mats are equipped with anti-skidding properties too.
However, because it is made of polymer, it does not soak water and needs to be cleaned regularly.
Also, these mats need to be adjusted frequently so that they do not obstruct pedal use. They have embossed patterns that help prevent slipping and provide increased grip. They can be conveniently washed with soap and water and dry quickly.
However, 3D mats are easily scratched, frayed, and wrinkled, which means they are not very durable.
When should you use a 3D floor mat?
If interior ambiance and style are what you crave, 3D mats are just the right option. Check out 3D Maxpider all-weather floor mats to give your car a royal look.
If you are the proud owner of a Volkswagon ID4, upgrade your car with the Volkswagon ID4 XPE&TPR and enjoy the envious looks of your friends.
If you want edge-to-edge protection in your car's molded, stylish finish, go for 3D floor mats.
They help you cover the floor and ensure no dust, dirt, or grime seeps into the flooring. Although they cost little more than the regular rubber mats, they are worth every penny.
5D Floor Mats
What is a 5D floor mat?
5D car mats are high-quality floor mats that protect from dust and grime. These mats have a five-dimensional structure that gives them a unique look.
The mats usually have an attached heel pad under the driver's seat. The person driving the car can comfortably rest their feet while driving and avoid slipping and losing control of the vehicle.
5D mats have slightly raised edges that provide enhanced protection by covering the car flooring completely.
These mats are a middle ground between 3D and 7D floor mats as they are made of the same material as a 3D line but give the same feel as that of 7D mats. They are flame resistant and safe even at high temperatures.
The mats have ridges and patterns that increase the grip and are connected to the car base with the help of easy-to-lock pegs.
They are made with CNC cutting technology that ensures perfect fitting. They come in luxurious and classy carbon pattern leather.
They have waterproofing and reverse waterproofing, which means they are anti-bacterial and do not absorb water vapor. They are durable and last for more than five years, depending on their usage.
5D mats are more economical than the 7D mats but definitely more elegant and sophisticated than 3D and 4D options.
When should you use a 5D floor mat?
They are easy to spread out and simple to wash, making them a convenient choice for those who want a simple solution to keep their car clean and aesthetically pleasing. Try the Husky Liners weather beater series and enhance your car's interiors.
7D Floor Mats
What is 7D floor mat?
7D mats are a step ahead of 5D mats and provide end-to-end protection while giving a luxurious feel to your car's interiors.
These mats are designed using EVA, foam, Velcro, and artificial leather and are low in maintenance. 7D mats are waterproof and relatively more long-lasting due to their double-layer protection.
They prevent the accumulation of dirt, bacteria, and mold while keeping your car spotlessly clean, hygienic, and fragrant.
When should you use 7D floor mat?
If you wish to upgrade your car to the next level, 7D floor mats should probably be the next car accessory on top of your list.
These mats make your driving experience more comfortable and relaxing. What's more, with its luxurious look, you can revive the interiors of your car and brighten up the cabin.
These mats have seven layers with a leather layer on top, and a foam layer in between that enhances the comfort. 7D mats are meant for end-to-end fitting and custom-made for each vehicle and offer varied benefits over 3D and 5D mats.
They come with an additional detachable mat that can be removed and cleaned regularly without cleaning the lower mat. They are highly durable and offer an excellent return for investment.
These mats are the right choice for those looking for a luxury line of car mats and are ready to pay the price. Although these mats may seem expensive at the outset, their longevity and benefits make them a worthy investment.
9D Floor Mats
What is 9D floor mat?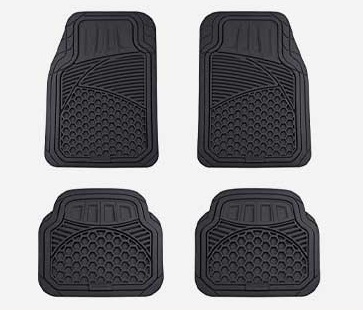 9D floor mats are a top-tier category in car floor mats. Like 7D mats, they cover the flooring, providing edge-to-edge protection from bacteria, dust, and liquids.
The raised edges prevent unwanted filth from sneaking into the flooring, thus keeping the interiors looking fresh and new for a longer time. These mats are environment-friendly too.
The mats are simple to wash and maintain, waterproof, and have anti-skid properties. The detachable upper grass mat makes cleaning easy. Apart from all these benefits, they offer a great appeal to your car, which is hard to miss.
When should you use the 9D floor mat?
If you want a premium interior look for your car, invest in high-end 9D mats with a detachable upper layer and a diamond-shaped design with unique fabric and threading to give the carpets an elegant look.
They are odorless, waterproof and are available in many colors to match the color of your car. Check out Muchkey car floor mat and customize it according to your vehicle.
Difference Between 3d, 5d, 7d, and 9d Floor Mats [3D Vs 5D Vs 7D Vs 9D Floor Mats]
| | | | | |
| --- | --- | --- | --- | --- |
|   | 3D mats | 5D mats | 7D mats | 9D mats |
| Material | Rubber | High-quality TPR (Thermoplastic rubber) | EVA, artificial leather, foam and Velcro | Faux leather, PVC, EVA foam |
| Coverage | Cover only the floor of the car | Cover the interior of the car seamlessly | Have higher borders that cover all the floor | Completely cover your car base |
| Thickness | Single-layered | Five layers | Seven layered | Seven layers+lamination |
| Durability | Not very durable | Last for 3-5 years | Enhanced durability | Last for a long time |
| Odor | Pungent smell in hot conditions | Odorless | Odorless | Odorless |
Final Words:
Driving across long journeys can be tiring and monotonous. Still, a fitting floor mat with an original mix of lively colors and rich textures can enhance your mood and make the experience more enjoyable.
Car floor mats reflect your affluence and should never be brought in a hurry. Moreover, it is easy to change the floor mats rather than re-carpet the entire floor.
Before choosing any floor mats, look for multiple options and weigh all the pros and cons to get the best deal in your budget.
A lot also depends on your lifestyle; go for all-weather mats that work throughout the year or get customized mats according to your preference.