Do Anti-Static Chair Mats Work? Where Do You Use Antistatic Chair Mats?
If you are among those who think that it is not worth investing in an antistatic chair mat, then this article will change your outlook altogether.
Technically speaking, the present urban dwelling is built in and around an electronic environment- computers, mobiles, and other electrical devices.
Most people must have encountered a moment when they receive a small electric shock or knock-out feels while touching a doorknob or any surface in a static sensitive area (a region filled with electronic components/devices).
Though these little bits of static electricity or shock may be an insignificant health hazard for all, such occurrence has the capacity to create irreversible explosive damage in an environment that houses flammable, volatile substances and electrical devices.
That is why it is crucial to invest in an antistatic chair mat.
Do Antistatic Chair Mats Work?
Many users of modern electrical devices are still in two minds about the utility of antistatic chair mats. They doubt its needs and performance.
It is to be noted that people are using antistatic chair mats in homes or while working in a computer-filled office as these are useful and critical in environments that house electrical devices. 
As a conductive product, these antistatic chair mats are the best solutions that can neutralize the electrostatic charges when they occur. These chair mats are made from rubber or vinyl with a grounding cord and have structured two or three layering constructions.
The top layer has high resistance to energy and can prevent electrical energy from affecting any surface.
The middle layer of these unique, grounded mats is primarily made from a metallic sheet (black carbon-loaded conductive scrim layer). It prevents ESD from flowing across the surface at a high rate and transfers the discharge to the ground.
Thus, it safeguards your electronic devices from any damage from moving the charge. Again, these mats reduce the risk of transferring electrostatic discharge to the body.
The grounding wire (in the case of corded mats) acts as an earthing link for the absorption and dissipation of the electrostatic charge.
Apart from combating ESD, the bottom layer of an antistatic chair mat is made from foamy material to provide cushioning and prevent fatigue to the feet while seating or standing. Moreover, these mats are anti-skid in nature and work best even on slippery floors.
 Hence if you want to keep your devices functioning well and correctly, opt for these antistatic mats immediately.
Benefits Of Antistatic Chair Mats
If measures are not taken to control static electricity discharge, many electronic devices, including circuit boards, semiconductors, and other electronic assemblies, can be damaged irreparably or cause equipment malfunction.
They may have short-term operation life. Grounded and treated Antistatic chair mats control static discharge during any electric-based activity. 
The antistatic chair mats provide outstanding benefits that are as follows:
1. Acts as a conductive device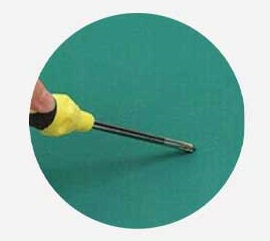 These mats are made of an operative electrostatic discharging material that accumulates/ absorbs static electricity. They allow the ESD to flow away from the surface (electrical devices), thus neutralizing the build-up charge.
2. Protects your hardware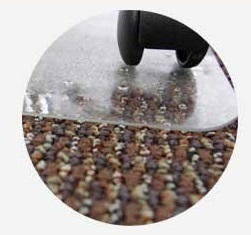 Antistatic chair mats, commonly referred to as antistatic desk mats, actually act as an upgraded toolkit that protects from friction and electrostatic discharge occurring among surfaces and people in computer-filled places.
3. Save on the repairs on flooring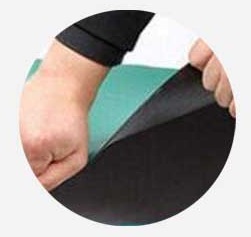 These antistatic mats are made with anti-skid materials that protect the flooring. They are non-slippery and are in place even if the user is moving their chair, which may tarnish and degrade the floor beneath the chair.
Remember that repeated movement of the chair may lead to scratching and discoloring the floor.
4. Easing the fatigue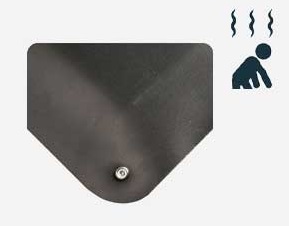 The three-layered antistatic chair mats have a high-quality foam at the bottom that also provides support, prevents fatigue, and ease of movement for the user.
5. As a Décor with Several Colors and Sizes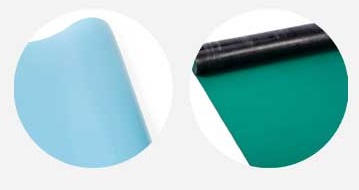 These chair mats come in different colors, sizes, and designs. Using such tools in the office can surely increase the aesthetic and ambiance of the workplace.
Where Do You Need to Use Antistatic Chair Mats? 
Antistatic chair mats are primarily used in static sensitive areas where sophisticated electronics are used to avoid potential spark or shock.
The antistatic mats are generally placed above the floor, under the chairs.
Before choosing the right antistatic chair mat, either cordless or corded, do consider the kind of flooring, size, and space you will be placing the same.
1. Flooring Types 
Rubber or carpet flooring
These are the most popular types of flooring to reduce noise and regulate the temperature in a workspace. However, this type of flooring material contributes to static electricity. Anti Static ESD Chair Mat will be a great match for carpet flooring.
Hardwood flooring
The stylish and most classical flooring look is made from engineered hardwood or solid hardwood.
As this wooden flooring doesn't handle moisture well, you need a high-quality antistatic mat. You can try Bertech -ESD High Temperature Mat for hardwood flooring.
2. Space/Size
If your workspace is vast, employers can invest in rolls of antistatic mats or order custom-sized mats.
Nevertheless, these mats can be placed as table tops (desk, workbench) or another flat surface.
3. Highly sensitive areas
People working in more electrical sensitive areas such as electrical repair rooms, manufacturing areas where flammable materials are stored, computer server rooms, auto, and medical units, and many more use anti-static mats along with other preventative measures, like antistatic wrist straps, for improved safety.
MYOYAY Rubber ESD Anti-Static High Temperature Soldering Mat Roll is a perfect fit for such areas.
Final Words:
It will be evident from the information mentioned above that antistatic chair mats are crucial to protect both the users and equipment from potential damage from static electricity discharge.
The underlying mat placed under your chair will prevent charges from being built up initially while seated and provide comfort, reduce worker fatigue and avoid slip accidents.
The ergonomic design of the antistatic chair mat allows static charge removal at a very slow and non-damaging flow rate.
It is important to note here that these specialized mats will only protect you while working with the equipment but not against a static discharge after walking around and then stepping on the chair mat.
Further, do buy the product considering the rate of static electricity discharged in your workspace. Most computer chair mats are presently made with antistatic features, so it will not be a difficult search for avid-technology users.