WeatherTech vs Husky Floor Mats [Which Floor Mats are Good?]
Choosing the right floor mat for your vehicle can be a difficult decision to make. There are many different brands, types, and styles of mats that you could choose from. In this blog post, we will compare two popular options: WeatherTech vs Husky Floor Mats – Which is the Best?
We will discuss how they compare in terms of price and quality so that you can make an informed choice when you go shopping for new floor mats!
Weathertech Vs Husky liners
| Specifications | Weathertech Floor Liners | Husky Floor Liners |
| --- | --- | --- |
| Material | High-Density Tri-Extruded (HDTE)  | Thermoplastic Rubber and elastomers |
| Design | Advanced surface  channels | Elevated edges to contain spills |
| Weight | Heavier Floor Mats | Lighter Floor Mats |
| Signature Products | Weathertech Floor Liners & All-Weather Floor Mats | X-Act Contour and Weatherbeater |
| Flexibility | Less Elastic and Semi Flexible | Elastic and Flexible |
| Budget | Expensive | Cheaper |
| Warranty | Lifetime Warranty | Lifetime Warranty |
Comparison Chart- WeatherTech vs Husky Floor Mats
Weathertech Floor Mats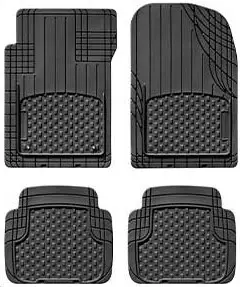 Weathertech offers three types of floor mat options: All-weather Floor Mats, Cargo/Trunk Liner, Tech Liner.
Recommended Weathertech Floor Mats:
Husky Liners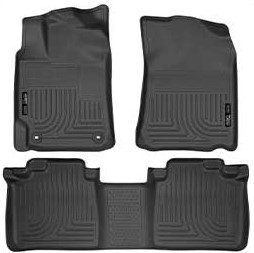 Husky Floor mats are a very popular, budget-friendly option for drivers.
These Liners are made of heavy-duty thermoplastic rubber that is durable and resists cracking or fading over time.
Husky liners offer a variety of products to fit your vehicle: Custom Fit Floor Liners, Cargo Floor Mats, and Truck Bed Floor Mats.
Recommended Husky Liners Mats:
Which is Better? Weathertech or Husky Floor Liners?
Weathertech is a reputed auto floor mat brand but Husky mats offer the same quality at a lower price. Some of Husky's best products are the WeatherBeater and X-Act Contour floor liners, which come with custom-fit edges to protect your car's floor from dirt and fluids.
Are weathertech mats better than husky?
The WeatherTech Floor Liner is accurate and protects the car well. It lines the carpet up the front, back, and sides of your car. Digital Laser measurements make sure that it fits your vehicle perfectly every time.
A patented HDTE material makes the carpet strong and also has a surface that is non-slip and provides perfect friction, so it is easy to walk on.
Advanced surface channels in the carpet that carry water and dirt to a lower reservoir. This helps keep the fluid from moving while you are driving your car.
The rear FloorLiner is like the front FloorLiner. It has a special material that is hard and strong but also flexible. It can be a two-piece or one-piece material depending upon your vehicle.
The FloorLiners help keep your car in good condition thus increasing the resale value of your car. When you buy a car, there is a difference between what you pay for it and how much it sells for.
There are many things that can affect the resale value of your car, like miles or the exterior condition. The FloorLiner is designed and made in America with American-made tools.
Benefits of Weathertech Floor Mats Over Husky Liners :
Strong HDTE material that is super durable
Custom-fit for all vehicles
All-weather protection
Advanced surface channels to handle fluids
Provides good friction
Odorless Mats
Can handle extreme temperatures
Non-Sticky Floor Mats
Most No of Vehicle Model Coverage
3 Years Warranty
Drawbacks of Weathertech Floor Mats in Comparison to Husky:
Expensive than Husky Liners
Rear Floor mats require trimming for a perfect fit
Less flexible
Are Husky Floor Liners Better Than Weathermat Floor Mats?
Husky Floor liners are made of thermoplastic rubber and flexible elastomeric material. They have the X-Act Contour mat, the Weatherbeater mat, Mogo Floor Liners, Heady-duty, and Classic Floor Mats.
These mats work well in extreme temperatures and protect the floor from harsh chemicals.
The Husky Liners fit the shape of your car, truck, or SUV. It is strong and comfortable and it is available in different colors and styles. The liner will protect your truck floor and will look nice. This liner will keep your truck floor safe from getting dirty!
Husky Liners have raised edges to contain spills and it has bumps that channel the spills away from your clothes and carpet. The liners also have special purpose cleats on the bottom so they don't move.
Benefits of Husky Liners Over Weathermat Floor Mats:
Patented Formfit Technology and Laser measurement for a perfect fit for all vehicles
A perfect balance of strength and softness in each floor mat
Rubberized Duragrip Technology for better grip
Higher raised edges to channel fluids and messes
Stay Put cleats for a firm grip on Carpet and Vinyl floors
Lighter than the Weathertech Floor Mats
Flexible and more elastic than the weathertech Floor Liners
Cheaper than the Weathertech floor liners
Lifetime warranty against cracks and Breaks
Easy to Install, Remove, and Clean
Sporty and rugged
Resistant to extreme temperatures and Harsh Chemicals
Available in multiple colors
Also Covers older models of vehicles
Drawbacks of Husky Liners in Comparison to Weathermat:
Do not have comprehensive coverage on all types of vehicles
Can have a slight odor in the rubber mats
Can curl on edges
Final Comments:
WeatherTech floor mats are elegant, stylish, and built to impress. They outperform when you compare them to other mats like Husky which are not as expensive.
But if you want something that is more inexpensive and good looking then choose Husky Floor liners.