What Color Floor Mats Should I Get? [11-Point Guide To Choose The Color]
It is true that vehicle owners use car floor mats for practical and functional purposes. Still, occasionally one can add style and fashion to the car's interiors by using the right colored floormats.
Floor mats come in various styles, designs, and colors that you can pick to upgrade the interiors of your car while keeping it spotlessly clean. 
You can enhance the interiors of your car by installing floor mats in bright hues or subdued colors that blend with the color of the upholstery. The right color will brighten the cabin, while the right material will give it a premium appeal. 
But it is easier said than done! Picking up the best material as well as a color that suits your car can be time-consuming.
With so many options, it is understandable if you get confused while picking the right one. So, what are the crucial factors one should consider before making the right choice?
Let's get deep into the question!
What Color Floor Mats Should You Get?
Have you ever admired a beautiful sleek car, only to be put off by the shocking interiors that seemed like a mess?
Please take it as a good lesson and ensure that people don't feel the same way when they sit inside your car. Buy floor mats that gently blend with the upholstery and interiors of your car and don't give a jarring look.
When you go shopping for floor mats, you have a lot of choices to make-There are mats for the front, rear, and cargo, different sizes, those that can be trimmed, different shapes and styles, and yes, colors! So, how do you choose a color for your floor mat? 
Although floor mats may seem quite insignificant at first, they are something that you are going to notice day in and day out.
How Do I Choose a Floor Mat Color?
1. Use Color Theory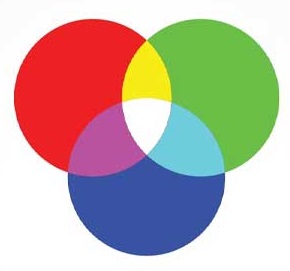 You can't go wrong if you use color theory to pick the best color for your floor mats.
Each color invites specific emotions from individuals and affects your mood as well. Depending on your preference and taste, you can opt for any of the colors.
Alternatively, you can pick any neutral color such as white, black, and grey that go well with most of the interiors. For example, black, beige, and grey are universal colors that go with all.
In contrast, red ( base or dual colored) is a powerful color that catches the eye instantly and displays confidence. Similarly, the yellow color displays happiness and youthful energy.
The green color is widely associated with nature and has a soothing effect on the eyes. The color blue symbolizes calmness and reminds one of the vast expanses of the ocean.
You can mix and match or use a combination of these primary colors. Some mats are available with edges in contrasting colors that look appealing and attract the eye.
2. Match the interiors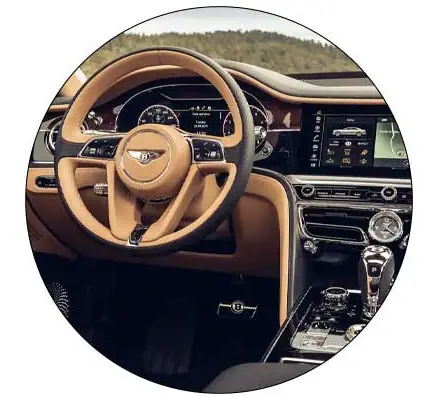 Choose a color that helps bring out the dominant color of the car's interiors.
For example, if the car seat covers and upholstery are dark-colored, you can use light-colored mats such as beige or grey.
Dark-colored mats can be used with lighter interiors. Contrasting colors balance out the overall effect and look more aesthetically pleasing.
3. Usage Type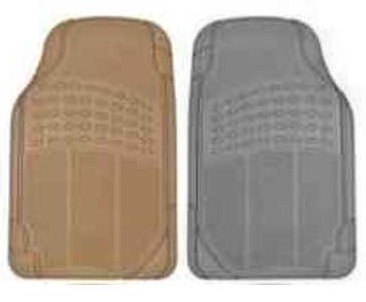 Light-colored mats will show stains and dirt much more quickly than dark-colored ones.
They need more care and maintenance as you will have to wash and clean them more frequently.
If this is not an issue, go ahead and buy them. Otherwise, dark colors are a safer bet.
4. Usage Duration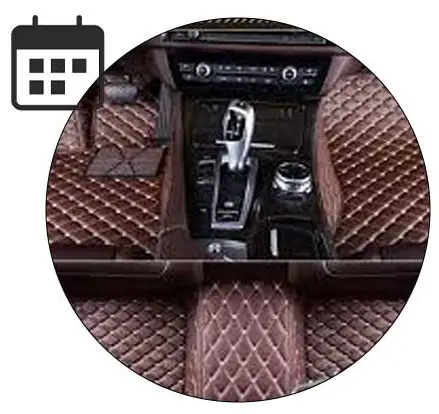 If you are one of those who essentially live out of their cars like a truck or carry van, opt for neutral or dark-colored mats as they are easy to maintain.
In contrast, if you take out your car for that occasional outing, you can also pick lighter shades.
5. Vehicle Type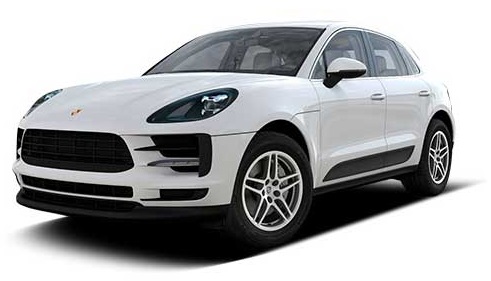 The make and model of your car can greatly influence the type and color of the floor mats.
The colors that will look good in a sports car might look weird in a van or a truck.
Light colors make the cabin look larger and more spacious, so if you have a small car, go for lighter tones, while dark colors can be used for vans and SUVs with more space.
6. Floor mat material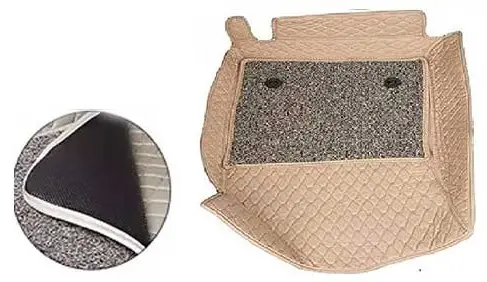 Floor mats are made from different materials such as fabric, rubber, PVC, leather, Aluminium, and so on.
All these materials have different color choices, so you should first zero in on the material and then choose the color from all the available options.
Carpet mats offer the greatest variety of color choices for car floor mats. This is because the nylon fibers can be dyed in unlimited colors.
The color choices in Vinyl and rubber are quite limited as these are manufactured with color molded. You will find Vinyl or rubber mats in grey, black or beige.
7. Match the Exterior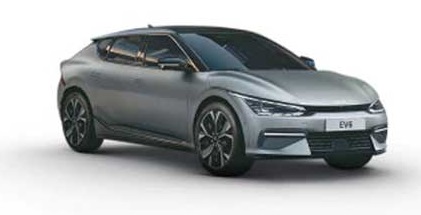 The color of your car's exterior is the first thing people notice from far. You can match the floor mats with the exterior and give a trendy look to your car.
Alternatively, you can go for carpet mats with various designs and logos that look quite appealing.
8. Personal preference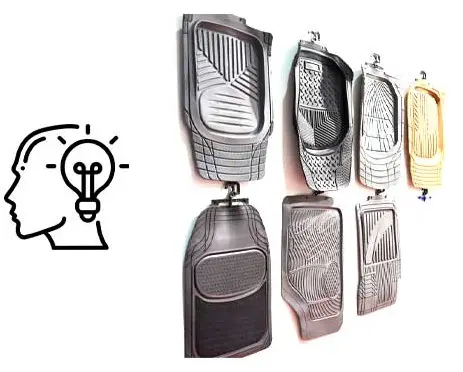 You should first assess your usage, likes, dislikes, and the lifestyle you lead and then look for the ones you like best.
9. Long-lasting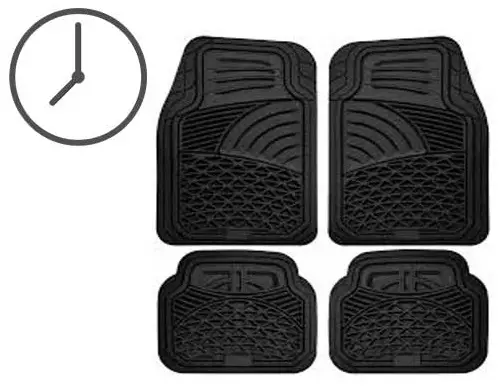 If you want to make sure your car looks as good as new for a long time, choose colors that do not fade away with a few washes.
Some colors and designs remain in style for a short period and then fade away as quickly as they came.
If you opt for one of these, your car will show its age when the color and design go out of style.
10. Luxury/Normal cars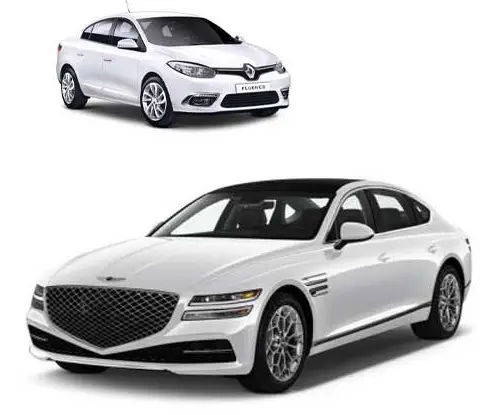 Consider your car type and choose the floor mats accordingly.
Throwing in a pair of inexpensive black or grey rubber mats in your Porsche will look weird, while expensive leather floor mats in light colors will look odd in a mini truck or any such vehicle.
So, consider the type of vehicle you drive before narrowing down your search.
11. Price Range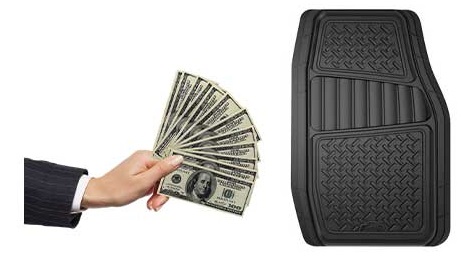 Floor mats are available in different price ranges, which ultimately comes down to the amount of money you have in your wallet. Floor mats are available starting from a meager amount of $20 and can go up to $400 or even more.
Final Thoughts
The car mats come in various colors, and if you look around carefully, you are bound to find the one that has been designed just for your vehicle. If you are looking for color matches, carpet floor mats offer the greatest variety of choices.
PVC or rubber mats are mostly available in neutral colors that go well with all vehicles. You can also check out some rubber mats available in attractive colors and pick the one that complements your interiors.
In addition to whatever you choose, you can also opt for customized mats with contrasting borders.
These borders may be of the same material as the mat or entirely different. Ultimately, it depends on your preference and how much you are ready to spend. The choices are endless!