9 Best Entry Mats for Hardwood Floors [Specs, Pros & Cons]
A floor mat is an indispensable item for your home space. Good quality entry mats will keep your hardwood floor clean, protect it from dust, debris, moisture, etc, and an aesthetic look to your home interior.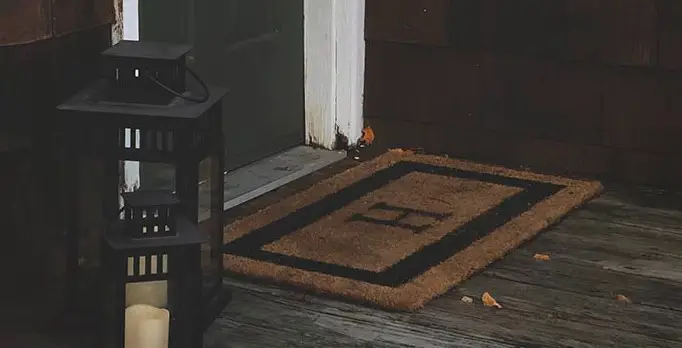 To make it easy for you to select a great mat for your precious floor, we have curated this list of some of the best entry mats for your hardwood floor. We will also look into various aspects that go into making a great mat to make the choice easier for you.
So, without further ado, let's delve into 9 of the best entry mats for hardwood floors.
In a Hurry? Check the below-listed options!
Top 9 Entry Mats for Hardwood Floors
1. Sierra Concepts
Sierra Concepts is one of the best entry mats for hardwood floors if you are looking for a good entry mat for spaces in your home that gets plenty of foot traffic.
This includes any space in your home where people come and go often, such as indoor, outdoor, kitchen, side, front door, hall, patio, garage, bathroom, and more.
This mat gives the perfect welcome for your home space. The mats are made with top-notch ribbed material. Have a lot of people at home come in with muddy boots? The dirt and debris will skive off their footwear easily.
These mats are not just good for keeping dirt from entering your house, but the high-quality polyester and recycled rubber are equipped with non-slip rubber backing.
This will prevent any moisture from getting into the mat. If you are worried about getting water all over your mat when it is pouring outside, the non-slip rubber backing helps to keep the moisture away.
Moreover, it helps to keep the mat securely in place.
The mat is durable, safe, and easy to maintain. To maintain the mat well, shake it well, sweep the rug, and use a hose to remove the debris and dry the mat.
Specs:
Dimensions: 30 x 17 x 0.2 inches
Weight: 4.59 pounds
Color: Dark Steel Gray/Black
Pros:
A great home decor.
Versatile mat used for various spaces in your home.
Ribbed design helps to remove dirt and debris from your shoes easily.
Non-slip rubber backing keeps the mat in place and keeps moisture away.
Durable and easy to clean and maintain.
A great addition to your home decor.
The compact size of 30 x 17 x 0.2 inches allows decent coverage for your entryway.
It comes with a 10-Year-no-questions-asked policy
Cons:
The edges of the mat may not stay flat.
Why We Recommend:
This entry mat is one of the best for hardwood floors and it is durable, easy to clean and maintain. It is made with high-quality materials with all the essential features you need from a floor mat. This mat is well-reviewed on Amazon with thousands of positive reviews!
More Customer Reviews & Latest Price
2. Gorilla Grip Original Indoor Doormat
Coming in at a hot second is Gorilla Grip Original Indoor Doormat is a great addition to any home space. It comes in different sizes and colors, so choosing a mat to blend in with the rest of your home decor is easy.
Not only does it look good, but it is super functional as well. It does a great job trapping mud and moisture from the muddy boots and paws of your beloved pet thanks to the extra-absorbent top layer.
The thick and plush mat exudes luxury and provides a soft footing for your bare feet. Plus, it shields your feet from cold floors. You can put this mat in any place you need protection from dirt and moisture, such as entry garages, entryways, etc.
The underside is strong and sturdy. And best of all? It comes with a durable TP Rubber backing. Not cheap PVC or glue. It is this feature that makes it safe to wash them in the washing machine and tumble dry on low heat. Plus, it also keeps the mat from slipping and sliding around.
Specs:
Dimensions: 9.1 x 5.2 x 5 inches
Weight: 1.2 pounds
Color: Available in 18 colors
Pros:
Comes in a ton of color and size options.
The PVC underside is slip-resistant and absorbs moisture.
Washing machine friendly.
Versatile, strong, and sturdy.
Soft enough to be comfortable even for bare feet.
Protects your floor by trapping mud, debris, and moisture.
Cons:
It is advertised as low-profile, but few users reported that they had difficulty sliding the door over it.
Why We Recommend:
If you are looking for a mat that will help to keep your beautiful floor spotlessly clean without debris, grime, muddy boots, and moisture, then the Gorilla Grip is a great choice.
It is easy and effortless to clean as well as you can simply throw them in the machine and tumble dry them. Have pawed buddies running around the place? This mat will stay put and give protection against muddied claws.
More Customer Reviews & Latest Price
3. Refetone Indoor Doormat
High-quality, eco-friendly polypropylene fabric goes into constructing this mat. It is free of odors and helps to keep dust, dirt, mud, slush, wet feet, and moisture off your floor.
The fabric is solid and won't fall off either. This means no hair loss from your mat during machine washing. It features around a dozen colors and makes a stylish decor for your home.
The multi-purpose mat can be used where more people tend to walk to and fro on it and is ideal for the front door, back door, office, kitchen, and more spaces.
The heavy TRP "Gripper Non-Skid" backing on the dry floor will prevent the mat from slipping and prevent falls.
Being a low-profile mat, you can glide it under doors without catching or curling. No matter your cleaning technique, your mat will remain as clean as when you bought it. You can vacuum it, sweep it with a broom, or use a garden hose for rinsing the mat outdoors.
Specs:
Dimensions: 14 x 13.15 x 1.81 inches
Weight: 2 pounds
Color: It comes in a dozen colors such as Beige, Ripple Grey, Chocolate, and more.
Pros:
Multi-purpose and versatile mat.
Provides 5 five times faster drying, thanks to microfiber strands.
A thin, low-profile design will not trap the door.
It is durable, non-slip, and machine washable.
It comes with a 10-year warranty.
The mat was designed with high-quality polypropylene wool.
The rubber bottom is easy to wash and does not skid.
Cons:
Although advertised to stay put, it tends to skid around.
Why We Recommend:
This mat could be slightly on the higher end, but it's perfect if your home has kids and pets running around. Being machine washable, it is easy to clean.
This dirt trapper mat withstands washing at 30 degrees. The fiber does not come off very easily, so it minimizes hair loss during machine wash.
More Customer Reviews & Latest Price
4. Refetone Non Slip Indoor Doormat
This mat was designed with superior functionality in mind. It finds use in the home and commercial space such as kitchen rug, bedroom, backdoor, garage, laundry, etc.
It is eco-friendly, non-toxic, odorless, and safe, so you can allow your kids and pets to access it without any worry. Get rid of sleet, snow, slush, grit, mud, etc.
Other appealing features of the mat include low-profile and non-slip backing so your mat will stay in place no matter what. Built with upgrading technology and quality materials, it is easy to clean and lasts long.
Specs:
Dimensions: 16.46 x 11.89 x 2.24 inches
Weight: 10 ounces
Color: coffee
Pros:
Instant absorption of moisture from shoes.
Keeps the hardwood floor clean and dry from dust, grit, grass, snow, and more.
The low-profile design also provides anti-skid properties.
It is machine-washable.
It is soft and comfortable.
Cons:
The rug may be thinner than you expect.
Why We Recommend:
This mat comes in two size options of 20×32 inches, 24×36 inches, and 3 color options. The non-slip low profile makes it ideal for entry doors. It comes with Refetone 10 years no questions asked warranty.
More Customer Reviews & Latest Price
5. Lifewit Indoor Doormat
If you have just come back from the garden and are afraid that the mud will soil your hardwood floor, or if you have been out in the snow and cautious about not getting the water all over the entryway of your home, use this mat in the entryway.
This mat is particularly tailored as an entrance rug for the front door. Ever encountered a situation where you just came in to find the mat skidding from under your foot? The TRP backing will prevent just that.
The low profile design prevents the mat from getting stuck on the door, and so you can conveniently open and shut it without the mat getting stuck.
Specs:
Dimensions: 35.43 x 23.62 x 0.39 inches
Weight: 1.6 pounds
Color: Gray, Black, and Brown.
Pros:
Reinforcement technology for strength.
Machine washable.
Low-profile design.
The non-slip rubber backing will prevent the mat from sliding and you from falling.
It lifts the moisture from shoes and absorbs dirt as well.
Cons:
Some quality issues faced by users in terms of absorbance, thin design, and sliding around.
Not suitable for bath mat use.
Why We recommend:
Although machine washable, it is recommended you wash it by hand for durability. Also, during washing rinse under cold water, not hot water.
Washing may result in slight hair loss. Despite being strengthened, ensure that your pets do not scratch at them without their sharp claws, or the fibers may shed. Before you start to use the mat, remove the excess dander.
More Customer Reviews & Latest Price
6. J Julone Indoor Doormat
The doormat copes with dirt, dust, moisture, snow, etc. Use this mat to keep debris, dirt, snow, and moisture away from your home.
There is no restriction as to where you can put it up. While the mat is great for home decor, it can also be used as indoor welcome mats, bath mats, front door mats, home carpets, and more.
The extra-absorbent top layer traps mud and moisture from muddy boots and paws and keeps it away from entering your home space. This multi-versatile and multi-purpose mat will shield your feet from cold floors too.
The heavy TPR Thermoplastic Rubber "Gripper Non-Skid" backing will check your mat from slipping on the hardwood floors.
This mat is made with 55% cotton and 45% microfiber and as such dries five times faster than a regular non-slip doormat.
The low-profile design will put a stop to those annoying times the mats get stuck on the door. The mat does not require much maintenance. To clean, you can hose with water or machine wash it.
Specs:
Dimensions: 32 x 20 x 0.5 inches
Weight: 1 pound
Color: Gray, Black, and Brown.
Pros:
Prevents your home from getting messy.
Keeps your hardwood floor mess-free and moisture-free.
Great for homes with kids or pets.
A Multi-purpose, versatile mat prevents the hard floor of your home space from becoming stained and ruined.
TPR thermoplastic rubber can withstand harsh conditions.
Non-slip backing will put an end to the mat slipping and keep you safe from falls.
It comes with lifetime support.
The low-profile design is thin enough that it will not trap the door.
The polyester fiber is sturdy and functional, and will not fall off easily.
Cons:
Some people find it way too thin to be a front doormat.
Why We Recommend:
Ideal for any space in your home that is vulnerable to dirt and moisture, it will keep your floor cleaner for longer. It comes with all features needed like multi-functionality, non-slip backing, low-profile design, and durability. It comes with 100% lifetime support, so no matter the issue you face, you can be guaranteed support.
More Customer Reviews & Latest Price
7. HOMWE Front Door Mats
Kids, or even, you walking in and out of your house can bring in the dirt, debris, mud, and water from your shoes. Without a good mat to trap all this, you may have to spend hours cleaning, which could be both annoying and time-consuming.
With the HOMWE doormat set, you can cover two entry or exit areas. The option to use it indoors and outdoors is an added plus. You can also use it in any space in your home that tends to gather dust.
It is thicker and a lot more resilient than regular inside mats due to the strong fabric that absorbs rain, snow, and dirt. It comes with a slip-resistant rubber backing that can cope with any weather.
This mat does not slip, slide, or bunch with use. It is latex-free and safe for hardwood, linoleum, tile, and other floorings. The maintaining part is easy as well and does not require frequent machine washes. It
Simply shake it out and vacuum it. Further, it lasts longer and won't fray or fall apart.
Specs:
Dimensions: 29.5 x 17.5
Weight: 4.55 pounds
Color: Gray
Pros:
Indoor and outdoor versatility.
The water-absorbent polypropylene fabric keeps your shoes and floor, clean and dry.
Long-lasting, they won't undergo and tear easily.
The slip-resistant rubber backing stops the mat from sliding and bunching up.
It is durable, reliable, and easy to clean.
The large utility size can help you keep your shoes clean and provide a space for the shoes to dry.
Cons:
The rubber rug tends to emit an ungainly smell.
Why We Recommend:
Why settle for one when you can have two? If you are looking for a set of 2 mats that you can use for any weather with enhanced absorption, rather large size, multi-purpose utility, durability, and easy maintenance.
More Customer Reviews & Latest Price
8. Bungalow Flooring Waterhog DoorMat
This mat was particularly designed to be quick-drying with a rather large water holding capacity. It can hold a whopping 1.5 gallons of water per square yard due to the exclusive "water dam".
This mat works great no matter the floor surface, whether hardwood, marble, tile, carpet, vinyl or concrete. The mat is made with quality construction, and so it can withstand harsh elements.
The design is ridged floral and the rubber border traps the water and debris within the mat and saves it from falling on the floor. It will not rot either. Durable rubber backing is made of 20% recycled SBR rubber (Styrene Butadiene Rubber).
The mat is durable and easy to clean. All you have to do is give it a shake or go through it with a vacuum to get rid of loose dirt.
Specs:
Dimensions: 35 x 23 x 0.25 inches
Weight: 1.5 pounds
Color: Khaki/Camel
Pros:
It is suited for both indoor and outdoor use.
Can be used on any floor surface without causing any harm.
It is durable and easy to clean.
It will not mildew or rot, thanks to the premium PET fiber surface made with up to 94% post-consumer plastic materials, will not mildew or rot.
There are 5 size options in an assortment of colors and patterns that will match your home decor.
Rubber reinforcement of the mat prevents the pile from crushing, which further extends the durability of the mat.
Cons:
Some users found this mat to be a little too thin and therefore may slide out of place.
Why We Recommend:
A mat that scores high on functionality, exclusive technology, and looks, get this mat for your indoor or outdoor use. It comes in 4 great size options 2×3 ft, 3x5ft, 8.5×2.5 ft, and 22×60 inches to suit your needs. This mat offers 6 color options to choose from to match your aesthetics.
More Customer Reviews & Latest Price
9. SlipToGrip Universal Door Mat
SlipToGrip is a mat of the highest quality. This heavy-duty entrance rug carpet works well as home decor. It is just as satisfactory as on the indoor front welcome mat and kitchen rug, floor mat, bedroom, back door, laundry, living room, garage, office, and commercial establishments with high traffic inside.
If there are plenty of kids and dogs in your home, this mat will be apt for your home. The plaid design of the mat has a distinct look to it and looks very attractive.
The other appealing features include non-slippery quality, high durability, cushioning effect, and is easy to wash. To keep it clean, you just have to spray water through soft Polypropylene fiber to keep the mat clean and dust-free.
The low profile design of the mat requires only ¼-inch of door clearance. Made with high-quality materials, the mat is phthalate and BPA-free.
Specs:
Dimensions: 42 x 35 x 0.3 inches
Weight: 4.02 pounds
Color: Khaki/Camel
Pros:
Universal design is great for any decor and multitude of applications.
It is anti-slip and durable with a low-profile design.
High-quality construction.
The weatherproof surface absorbs moisture and water and keeps it off your hardwood floor.
It is easy to wash and clean.
Cons:
It comes folded and takes time to flatten out completely
Not suitable for Heavy Traffic Area
Why We Recommend:
During shipping, if any wrinkles or creases happen, you can remove them by placing the mats in the dryer for about 5 minutes on high heat. The wrinkles will be flattened almost instantly. With every feature desirable in an entry mat, it will be a great addition to your home space.