How to Roll Yoga Mat to Keep it Clean? [Step by Step Guide]
Yoga is one of the healthiest practices and exercises in the world. A good yoga mat is one of the essential tools required to practice. A yoga mat is exposed to sweat, dirt, and a lot of body pressure arising from different postures.
So, it is recommended and required to maintain and clean your mat regularly and the right way. What is the appropriate way to roll a yoga mat and store it? Let's discuss.
The conventional or regular way of rolling a yoga mat is to roll from one end and continue till the other end.
It works but there are some limitations with this approach.
It takes time to roll it and unroll it the next day.
The dirty side or the bottom side of the mat comes in direct contact with the top surface thus all the dirt from below sticks to it.
Both ends of the mat are often permanently curled and stay like that forever.
Instead, we can try this method which is faster, cleaner, and gets rid of the curling problem.
Step By Step Guide to Roll Yoga Mat
Step 1: Fold the mat almost in half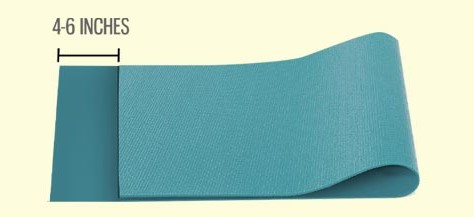 Fold the mat in half keep it just short like 4-6 inches.
Step 2: Roll from the Folded Center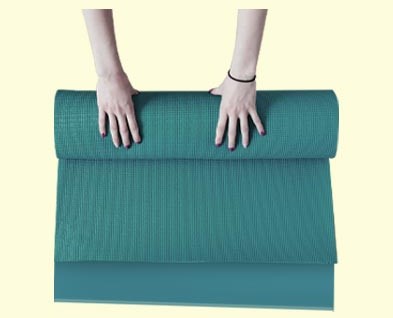 Then start rolling from the folded center and it takes nearly half the time and is easier to roll. In this way, you will keep the clean surface in contact with the clean surface and the dirty surface in contact with the dirty surface.
Step 3: Look for the Yin and Yang Symbol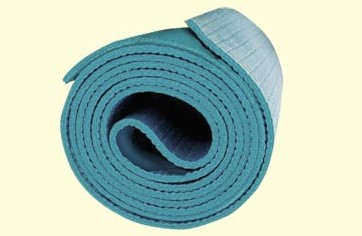 This way you solve the problem of curling edges. To confirm whether the mat is rolled properly or not look for the Yin and yang sign. If you can see the sign at the center of the rolled sides then it is done perfectly.
So next time you take out your mat for practice it will be nice and clean. Free from any dirt, and curling edges.
Note: Please avoid pressing the initial centerfold flat rather do it loosely and let the mat roll out naturally. This way you will avoid any creases developing on the mat.
Some thicker mats are very difficult to fold in half and results may vary but this is the most effective way to roll and keep your mat clean.
It's not that difficult to use and handle a yoga mat but sometimes we are frustrated in rolling yet keeping it clean. So, here is an innovative solution or the savior of your yoga mat.
Self roll up Yoga Mat
24"x72" - 5mm
2.75 lbs
Lay down flat with no curling edges
Custom-designed slip resistant surface pattern
Eco-alternative material, non-toxic, recyclable, PVC-free, chloride-free, and latex-free
This creative solution is called YoYo mats or self-rolling yoga mats. Just toss your yoga mat facing the top side up and will lay just flat and ready to practice. When you are done for the day just flip it and it will roll itself up or just give it a click and you are done.
It stays rolled without the need for a strap or bag. This way it stays clean and stored properly. This mat is not limited to yoga but is also suitable for all fitness activities like stretching, dancing, and much more.