Gone are those days where you had to choose a Yoga Mat from a selected few. Today we have tons of choices for every priority and preference. You can select a yoga mat according to colors, patterns, stability, comfort, budget-friendly, storability, and portability. Most yoga practitioners today look for Environment-friendly mats. The weight of a yoga mat is one of such aspects that are important for Yogis.
For traveling, people require a portable thin mat that is less in weight. So, how do you select a mat which is of the right size, thickness yet easily portable? We have researched 50 brands and products of different lengths, thicknesses, and materials to figure out the weight of Yoga mats.
Points that decide the Weight of a Yoga Mat
There are few points that decide the weight of a mat is as follows:
The Thickness of the Mat

Size of the Mat (Length & Width)

Material
Most of the mats available in the market are either made up of PVC (Vinyl) or TPE (Thermoplastic Elastomers).
Thickness Of Yoga Mats
3mm(1/8 inch)–
A 3mm thick, PVC, TPE, or Natural Cork yoga mat of standard size 68 inches-72 inches in length weighs less than 2 pounds. (weighted average is 1.6 Pounds)
5mm-6mm(1/4 inch)–
The average weight of 5mm-6mm thick PVC, TPE, or Natural Cork Yoga mats of standard sizes is around 2.2 Pounds.
10mm-12 mm(1/2 Inch)-
The average weight of any 10mm- 13mm thick mat is around 3.3 pounds. These thick mats are made of materials like Memory Foam, High-Density Foam, NBR Foam & Rubber Foam, and the average weight increases for certain types of mats. A 12 mm memory foam and rubber foam mat weighs approximately 4.5 pounds on average.
24mm(1 Inch)-
The average weight of 24 mm thick High-Density Foam or Memory Foam yoga mats is 3.5 pounds.
Sizes of the Yoga Mat:
Standard Yoga mats come in sizes of 68 inches to 72 Inches. But there are extra long mats for tall people which are 78 inches-84 inches in length. Standard mats are 24 inches(2 feet) wide but some extra-wide mats are 36 inches-48 inches(3ft-4ft) in width.
These longer and wider mats are more in weight. The average weight of these mats is around 5 pounds.
Weight of Yoga Mats for different material types-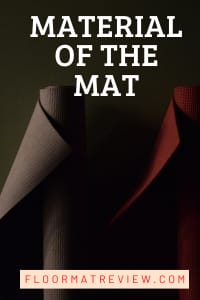 TPE- Almost all light Yoga Mats are made up of TPE. The average weight of a 6mm yoga mat is approx. 2 pounds. Some travel-friendly mats are lighter than 2 pounds.
Natural Jute Fibres- Natural jute fiber mats are heavier and the avg. The weight of a 5mm-6mm mat is around 4.2 pounds.
Natural Cork- Natural cork mats are lighter and the average weight of a 6mm yoga mat is approx. 2 pounds.
PVC- PVC mats are also light in weight except for some branded ones like Manduka. The average weight of a 6mm PVC yoga mat is approx. 2 pounds but a Manduka mat is almost 3 times the weight of a regular mat.